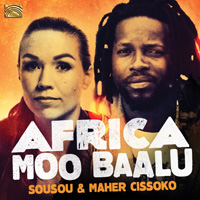 Sousou and Maher Cissoko
Africa Moo Baalu (ARC Music, 2014)
With the 2008 Adouna and the 2011 Stockholm-Dakar recordings to their credit, Sousou and Maher Cissoko are back with their third release Africa Moo Baalu out now on the ARC Music label. Sousou, a singer and musician from Sweden and Maher, a singer and kora player from a well-known Senegalese griot family have hit it big on the music scene plying their blend of African, reggae, mbalax, folk, soul and blues music, so much so they've toured Scandinavia, South Korea, Senegal, Mali, Tanzania and South Africa. The pair has performed at the Way Out West, Peace & Love Festival, Festival Sur Le Niger and Gwanju World Music Festival. While from seemingly wildly different background, Sousou and Maher have fashioned a collective sound that has proved potent and popular.
Maher Cissoko, the youngest son in a revered musical griot family, resisted the family tradition of the kora and found himself kicked out of the house at 17 by his father, before eventually finding his way back to the kora while studying in Gambia and the national percussion orchestra.
Maher explains his background and approach this way, "To be the youngest member in a family of griots is not easy. You learn from and respect your elders, but you also want to distinguish yourself from them, to renew the traditions in your own way. You wonder how you could do something they have not done already. I have come to the conclusion that in order to make music you have to find who you are. It is my ambition to freely create music that expresses my personality."
Sousou Cissoko (born Haberth Gottlow) is from a musical family in Sweden and started her musical studies early with the violin, piano, guitar and recorder. It was a collaboration between Sousou's father, who is a musician in his own right, and the Gambian kora player Alagi Mbye who piqued Sousou's curiosity. Soon, she was off to Gambia for intensive studies in the kora despite the all-male tradition of kora playing.
Sousou remembers, "In The Gambia, I was often asked why I was there to study their culture and traditions. Some wondered if I did not have 'any traditions of my own.' That encouraged me to learn more about Swedish folk music as well."
Sousou and Maher met up in Stockholm and a new collaboration was born. Now, three CDs later and countless performances later, Sousou and Maher keep their music grounded.
Maher points out, "I am a musician and whenever I travel from one country to another, I search for its rhythm and what gets people moving. It gives me something new that I take to my heart. Everything is there in my instrument. The kora is complete. When I create a new song, I use all these influences but do it in my own way. It becomes my own music and my rhythm. We play reality music – music that comes from our reality."
Africa Moo Baalu drifts on a current of African folk, laced with kora work by both Maher and Sousou, as well as the pleasing vocals of the pair and Sousou's guitar and Maher's calabash and shaker. Joined by double bassist Andreas Unge, shaker player Mikael Gomilsek and djembe, bougarabou and calabash player Salieu Dibba, the music of Africa Moo Baalu comes across as fresh and good-natured.
Tracks like "Wula," "Aline Sitoe Diatta" and "Fentangya" are rooted in a delicately elegant music but express deeply felt African storytelling as each tells the tale of the passing of loved ones, the story of the celebrated heroine Aline Sitoe Daiatta who fought against the French and the sorrows of poverty. Perhaps hard topics are just easier to take surrounded by the kora. Other treats include the driving rhythms of "Gummal Sa Bopp," the sweetly worked "Fall" and the delightful title track "Africa Moo Baalu (Big Leaders of Africa)."
Sousou and Maher Cissoko turn out a first class musical experience on Africa Moo Baalu by steeping their sound in the storytelling of Africa.
Buy Africa Moo Baalu
Author:
TJ Nelson
TJ Nelson is a regular CD reviewer and editor at World Music Central. She is also a fiction writer. Check out her latest book, Chasing Athena's Shadow.
Set in Pineboro, North Carolina, Chasing Athena's Shadow follows the adventures of Grace, an adult literacy teacher, as she seeks to solve a long forgotten family mystery. Her charmingly dysfunctional family is of little help in her quest. Along with her best friends, an attractive Mexican teacher and an amiable gay chef, Grace must find the one fading memory that holds the key to why Grace's great-grandmother, Athena, shot her husband on the courthouse steps in 1931.
Traversing the line between the Old South and New South, Grace will have to dig into the past to uncover Athena's true crime.