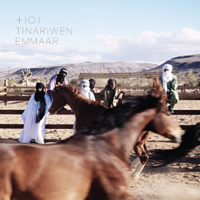 Tinariwen
Emmaar (Anti/Epitaph, 2014)
Hardcore Saharan blues fans will know Tinariwen by such recordings as Tassili, Aman Iman: Water Is Live, Imidiwan: Companions, Amassakoul, The Radio Tisdas Sessions and Ishumar (Mali-Niger Tuaregs) with Terakaft and Toumast. After winning the Grammy award for Best World Music album for their 2011 Algerian desert recording Tassili, Tinariwen is back with Emmaar. With the situation still uncertain in Mali, Tinariwen packed up and carted their sound to another desert thousands of miles away in Joshua Tree, California to record this latest CD.
Tinariwen's bassist Eyadou Ag Leche explains, "This is the first time we are recording out of Africa, but it has to be in a desert. We would like to live in peace in the north of Mali, but this is very difficult, there is no administration, no banks, no food, no gas. Joshua Tree is in the high desert of California, we love all the desert, these are places where we feel good to live and to create."
Still crafting a sound that seems to shimmer up from the earth like the watery waves of heat from the desert floor, Tinariwen's Emmaar is full of the fiery guitar licks, call and response vocals and mesmeric rhythms that have made them popular with fans and critics alike. But the Joshua Tree desert sound does come with a new flavor – a deeper, more polished sound that's recognizable on such standout tracks like "Arhegh Danagh," "Imidiwan Ai Sigdim" and "Sendad Eghlalan." Adding to that polished sound comes guest musicians like Chili Peppers guitarist Josh Klinghoffer, guitarist Matt Sweeney, Nashville fiddler Fats Kaplin, poet Saul Williams and producer Patrick Votan, who also produced Tinariwen's Tassili and has worked with the likes of Salif Keita, Rokia Traore and Caetano Veloso.
With songs written by the group's guitarist and vocalist Ibrahim Ag Alhabib, guitarist and vocalist Abdallah Ag Alhousseyni, guitarist and vocalist Hassan Ag Touhami and guitarist, vocalist and bassist Eyadou Ag Leche the tracks of Emmaarr range from social statements to political warnings to the hardships of the desert. Even without the English translations in the liner notes, the songs come across as powerful and organic.
Emmaar thrums with an inner delicious darkness that snares the listener from the opening spoken word section of the first up track "Toumast Tincha" with additional guitar by Josh Kinghoffer and works its way through the hypnotic guitar licks of "Arhegh Danagh" and the dazzle of tracks like "Imidiwan Ahi Sigdim" and infectiously catchy "Emajer" with additional guitar by Matt Sweeney. Fats Kaplin's pedal steel guitar wends its way through the lanky guitar licks of "Sendad Eghlalan" as well as percussively delicious "Koud Edhaz Emin."
Fans ordering a physical copy of Emmaar should be sure to check out the photos in the liner notes because the photo of the group decked out in their traditional dress on what looks like an American ranch is priceless.
For any fans heading off to this year's SWSW, Tinariwen will be performing, as well as heading out on a US tour to promote the Emmaar release.
Buy Emmaar in North America
Buy Emmaar in Europe
Author:
TJ Nelson
TJ Nelson is a regular CD reviewer and editor at World Music Central. She is also a fiction writer. Check out her latest book, Chasing Athena's Shadow.
Set in Pineboro, North Carolina, Chasing Athena's Shadow follows the adventures of Grace, an adult literacy teacher, as she seeks to solve a long forgotten family mystery. Her charmingly dysfunctional family is of little help in her quest. Along with her best friends, an attractive Mexican teacher and an amiable gay chef, Grace must find the one fading memory that holds the key to why Grace's great-grandmother, Athena, shot her husband on the courthouse steps in 1931.
Traversing the line between the Old South and New South, Grace will have to dig into the past to uncover Athena's true crime.