The musical application of the word "fusion" handily predates the phrase "world music" and was as much a stepping stone toward the latter term as it is now world music's frequent collaborator of sorts. Where world music was once the category that defied defining, we now have subtypes like "world fusion" to further clarify or confuse matters at your leisure. As for my part, I will merely say what I like about some recent (or shortly to come) CDs that seem to fit my idea of fusion and what it ought to sound like out there in the wide world.
Already a fan of the band Salaam form their previous work, I was elated to receive their new self-released Train to Basra and Other Stories. Opener "Queen of Sheba" is an Arab-Latin mash that sets into shimmying motion an excursion that steps in and out of Iraqi territory and touches down for varying stretches in the Mississippi Delta, the Andes, Mexico, Egypt and a New York jazz club or two before stepping bask in time to when its primary locale was called Mesopotamia. Under the leadership of oud/violin/spike fiddle virtuoso Dena El Saffar and master percussionist Tim Moore, Salaam's all-instrumental train journey never derails and continually delights en route.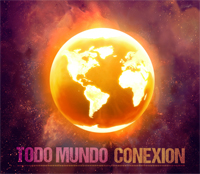 Also in instrumental mode is Uri Sharlin and the Dogcat Ensemble, who gather round the emotive, dancing tones of leader Uri Sharlin's accordion on Back to the Woods (Folk Dune/Naxos, 2013). Potential kitsch is left behind as Sharlin and supporting players on guitar, bass, bassoon, bass clarinet, drums and percussion show incredible sharpness and subtlety of chops on pieces like the Zimbabwe-gone-Lusophone "Monte Verde," the Balkanized reggae of "The Real Dogcat" and joyous Brazilian forro romp "Baiao." One of those exceptional albums that's both deep and deep fun. (www.urisharlin.com)
They made a change of locale from Argentina to San Diego, and now Todo Mundo gives us the sonic results on Conexion, which throws down a distinctly reggae vibe on many of the tracks (even referencing Horace Andy's "Skylarking" in the intro and melody of "Freedom") and intensifies or lightens the pulse with injections of Latin jazz, Afro-Cuban rhythms, hip hop bluntness, Peruvian chicha and acoustic introspection. Both the reggae and Latin contingents will enjoy this zesty slice of musical consciousness, which ends handily with an acoustic take on its electric opener.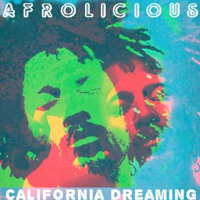 Don't let San Francisco's Afrolicious lead you to believe their California Dreaming (Afrolicious Music, 2013) is a tribute album to the Mamas and Papas. Rather, it's a stinging combination of Afrobeat polyrhythms, funky soul, lyrics both celebratory and cautionary and tempos made for thoughtful minds that happen to be attached to dancing bodies. Every track has its own special sizzle and adds another layer to a feel that's probably best described by the title of the band's own "Pleasure Power." Extremely nice.
An approach that's more Afropop (a fusion term requiring no further explanation) is taken by Zanza, a North Carolina-based band led by Ivory Coast djembe master Adama Dembele. Their album Djansa emphasizes sparse, jumping rhythms with violin as an unexpected but welcome frequent featured instrument. Highlife-flavored guitar, skillfully bashed drumset, rubbery bass and Dembele's multiple percussions and wryly rousing vocals are also very much in on the action, making the translation of the title ("dance") a given. The playing is tight, the songs infectious, the vibe consistently right.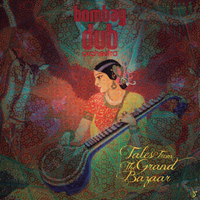 Percussionist Scott Kettner, leader of the band Nation Beat, also heads an ensemble called Maracatu New York, whose release Baque do Brooklyn (Nation Beat Music, 2013) combines the layered, artfully primal maracatu Afro-Brazilian drumming style with funky horns, New Orleans-style looseness and a cheekiness that enables the band to cover a song like Led Zeppelin's "Over the Hills and Far Away" and make it their own. The disc doesn't have the folksy Americana elements of Nation Beat's recordings, but it jams like nobody's business and will thrill anyone who appreciates a good solid groove.
Bombay Dub Orchestra returns with Tales from the Grand Bazaar (Six Degrees Records, 2013). They're not really an orchestra as such, but BDO's core members Andrew T Mackay and Garry Hughes think in fairly big terms sound-wise, applying their keyboard and electronic expertise to downtempo pieces recorded in India, Turkey, both coasts of the U.S., the U.K. and Jamaica. Most of the tracks build up an ambience before bringing beats into it, and while Indian, Persian and Arabic moods dominate, songs such as the loping, evocative "Four Thousand New Colors" seem to reach beyond anything of this world. This is the chillest disc I've heard in a long time, and satisfaction is guaranteed if you lay back and let it work itself into you.
Jazz guitarist Brian Prunka discovered the joys of the Arabic oud a while back, and he and his band Nashaz swimmingly combine jazz and Middle Eastern music on an eponymous debut CD. Prunka's axe is out front most of the time and his backing crew on trumpet, reeds, bass and percussion do a very sharp job of decorating his tart, wavy riffs. The lengthy tracks, instrumentals all, range from sweetly flowing to fiery without ever being dull or self-indulgent. Very, very good.
Author:
Tom Orr
Tom Orr is a California-based writer whose talent and mental stability are of an equally questionable nature. His hobbies include ignoring trends, striking dramatic poses in front of his ever-tolerant wife and watching helplessly as his kids surpass him in all desirable traits.