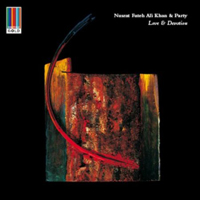 Nusrat Fateh Ali Khan – Love & Devotion (Real World Records, 2013 reissue)
Nusrat Fateh Ali Khan and Michael Brooks – Star Rise (Real World Records, 2013 reissue)
Afro Celt Sound System – Pod (Real World Records, 2013 reissue)
Jocelyn Pook – Untold Things (Real World Records, 2013 reissue)
Real World Records has done music fans a favor by its re-issue of four stunning world music classics: Love & Devotion by the incomparable Nusrat Fateh Ali Khan, Star Rise by Nusrat Fateh Ali Khan and Michael Brooks, Pod by Afro Celt Sound System and Untold Things by Jocelyn Pook.
In case you were out of town, off planet, or stuck in the never-ending labyrinth of some tech company's telephone helpline and missed out on the original releases, these enhanced, re-issue goodies are now available in physical and digital formats. Face it, you want them, you need them. For those of you who might have lost custody of any one of these CDs due to a bad breakup or loaned one out to never see or hear of it again, here's your chance.
Let's kick the festivities off with the 1993 release of Nusrat Fateh Ali Khan's double-CD reissue of Love & Devotion. Trust me, once you hear the joyful vocals of Mr. Khan leaking out of your speakers like sunlight you'll fall hard for this stunning performer. As a qawwali junkie, tracks like "Who Hata Rahe Hain Pardah," "Biba Sada Dil Morre De" and "Un Ke Dar Pen Pohchne To Payen" sum up the mysterious lure of the ghazal to perfection.
I can't help but be enthralled by the ecstatic energy of the music found on CD 1 Love Songs. CD 2 Devotional Songs proves just as captivating with tracks like "Allah Hoo Allah Hoo," "Haq Ali Ali Haq" and "Ali Maula Ali Maoula Ali Dam Dam." The liner notes point out, "Qawwali means literally 'utterance' and , like the Christan Logos or World of God, the Qawwali is a mouthpiece of Divine Power "We do not sing – we are made to sing."" And, oh did Mr. Khan offer up such spectacular vocals. It is no wonder that Mr. Khan was often referred to as "Shahenshah-e-Qawwali" or "The King of Kings of Qawwali."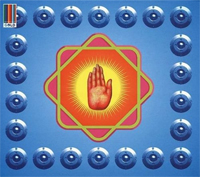 Veering off on to the next recording, while not quite leaping off in a completely different direction, the reissue of the 1998 original release of Star Rise will perhaps pique the interest of hipper music fans. Star Rise, the collaboration of Nusrat Fateh Ali Khan and Canadian guitarist, composer, inventor, producer and movie music composer Michael Brook, might have come as a shock to traditional Qawwali and mainstream electronica music fan back in the early 90s, but it was truly a cutting edge listen into the coming wave of remixes.
Even now, the mix comes across as thrilling and edgy with offerings such as "Joi Sweet Pain Remix," "Talvin Singh My Heart, My Life Remix," "State of Bengal Shadow Remix" and "Earthtrive Lament Remix." Remix fans get a special treat with a bonus track by the DJ and co-founder of New York City's ethno-tribal Globesonic dance gatherings and Los Angeles' Tadasana Festival Fabian Alsutany on the track "Fault Lines Remix" with Mr. Khan's stellar vocals sitting center stage. If you were late showing up to the remix party and missed Star Rise, it's time you ran out and snagged this reissue.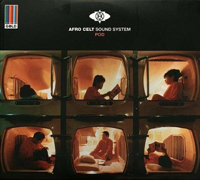 Following that same vein, we come to the reissue of the 2004 double-CD extravaganza of Afro Celt Sound System's Pod . This kick ass collection of remixes by Mass, Masters At Work, Rae and Christian, Bipolar and Rollo and Sister Bliss, as well as Afro Celt alums Simon Emmerson and James McNally will have you shimmying and shaking in no time. Packed with goodies like "Rise Above," "Persistence of Memory," "Further in Time" and the freaking fabulous remix of "Eireann" by Mass and that's just on the POD disc 1.
The second CD, Release Remixes, boasts just delights as "Radio Edit," "Rollo Remix" and "Nu Yorican Soul Mix." Savagely hip and razor sharp, this two-CD reissue is well worth revisiting and adding to your collection.
Finally, let's revisit with English composer and viola player Jocelyn Pook and her 2001 release of Untold Things. Ethereal and elegant, the reissue of Untold Things is just as striking and powerful as the original but features bonus tracks "Ave Maria" and "Adam's Lullaby" as added incentive.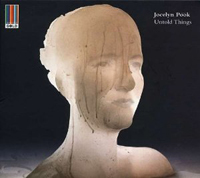 Power packed with guest artists that include vocalist Natacha Atlas, cellist Caroline Lavelle, Persian singer Parvin Cox and Syrian qanun player Abdulla Chhadeh, Untold Things is so good as to raise the hairs on the back of your neck, the true test of any really good music in my book. Listeners get it full force with bonus track "Ave Maria" with vocals by Melanie Pappenheim, Jocelyn Pook and Natacha Atlas – it's well worth a listen.With tracks like "Red Song," "Yellow Fever Psalm," "The Last Day" and "Saffron" Untold Things travels a mysterious musical landscape that is potent and hauntingly lovely.
Sometimes I feel at a bit out of sorts because there's just too much music out there. All right you can smooth down your hackles now, you bunch of maniacs. With the focus centered squarely on what's new or what's next, one rarely gets the opportunity to slip into the mystery of a CD or track to discover the inner workings of an artist or a simple piece of music that attracts the ear.
With all the new releases stacked to the ceiling, I doubt I would have revisited any one of these recordings, but sneaky, clever Real World Records reminded me to stop and spend a little time going back and finding the forward. And, you should take another well-earned listen to Mr. Khan, Afro Celt Sound System and Ms. Pook.
Buy the albums in North America: Love & Devotion, Star Rise, Pod, Untold Things
Buy the albums in Europe: Love & Devotion, Star Rise, Pod, Untold Things
Author:
TJ Nelson
TJ Nelson is a regular CD reviewer and editor at World Music Central. She is also a fiction writer. Check out her latest book, Chasing Athena's Shadow.
Set in Pineboro, North Carolina, Chasing Athena's Shadow follows the adventures of Grace, an adult literacy teacher, as she seeks to solve a long forgotten family mystery. Her charmingly dysfunctional family is of little help in her quest. Along with her best friends, an attractive Mexican teacher and an amiable gay chef, Grace must find the one fading memory that holds the key to why Grace's great-grandmother, Athena, shot her husband on the courthouse steps in 1931.
Traversing the line between the Old South and New South, Grace will have to dig into the past to uncover Athena's true crime.