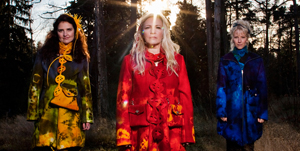 Finland's best musicians are the focus of this year's London International Festival of Exploratory Music (LIFEM) at Kings Place. The four-day event called The Finnish Line takes place October 30 – November 2, 2013. The Finnish artists will showcase multiple musical genres, including traditional, fusion and contemporary folk, folk-rock, progressive jazz, acid jazz, avant-garde jazz, electronic and much more.
LIFEM 2013 opens with the distinctive Finno-Ugric close harmonies of legendary band Värttinä. This 30th anniversary concert promises to deliver a complete review of their stylistic musical journey from 1983 to the present day. The current lineup features Mari Kaasinen on vocals, Susan Aho on vocals, Karoliina Kantelinen on vocals, Matti Kallio on accordion, flutes, keyboards; Kukka Lehto on violin; Matti Laitinen on string instruments; Hannu Rantanen on bass; and Mikko Hassinen on percussion, drums.
The iconic and much-admired Jimi Tenor will be exploring his impressive back catalog, blending electronic, classical, lounge, Afro-American and cabaret music, with spontaneous slapstick and shameless glamor.
Also featured will be one of Finland's best-known jazz pianists/composers Iiro Rantala, and the energetic visionary fusion folk of Tsuumi Sound System.
In the spirit of collaboration, celebrated master of free-bass button accordion Maria Kalaniemi is joined by Timo Alakotila, one of Finland's most in-demand performers, on harmonium and piano. Support comes from English accordion wizard Karen Tweed.
Six-piece Alamaailman Vasarat, which translates as 'The Hammers of the Underworld' draw musical influences from tango, klezmer, jazz, psycho-billy, cabaret, circus music, new age, progressive avant-garde and the heaviest of heavy metal. The band's arsenal consists of saxes and clarinets, bass brass, cellos with multi-effects, pump organ, grand piano, drums & percussion and, most recently, a rare contrabass saxophone. Support comes from visionary Finnish neo-folk music composer, singer and jouhikko player Pekko Käppi.
LIFEM will also presents two London film premieres: Kimmo Pohjonen's Soundbreaker and Jimi Tenor's Sähkö The Movie. Both give a rare insight into the minds of two of Finland's most creative and distinguished performers.
"LIFEM showcases an unprecedented level of original Finnish talent in the UK and presents the perfect occasion to commemorate our 30th anniversary. We feel truly privileged to be part of The Finnish Line celebrating our music in London," said Mari Kaasinen of Värttinä
"I'm delighted to be part of LIFEM celebrating Finnish music in London. This time I will revisit my catalog all the way from the WARP years into new material from my upcoming album released later this year. Very Exciting!", commented Jimi Tenor
"Now in its fifth year Kings Place is incredibly proud to have supported LIFEM from the start. The festival continues to bring new audiences year-on-year with its exciting program of groundbreaking international artists," said Peter Millican, Kings Place, Director of Programmes
"LIFEM's fifth edition is once again full of UK premieres, England premieres, London premieres, and UK only shows. If that is not enough, it brings the very best artists from Finland, an arctic paradise that never stops to surprise and excite us," said Miguel Santos, Director, London International Festival of Exploratory Music
The full program is available at www.lifem.org.uk
For tickets, go to www.kingsplace.co.uk
Author:
World Music Central News Department
World music news from the editors at World Music Central