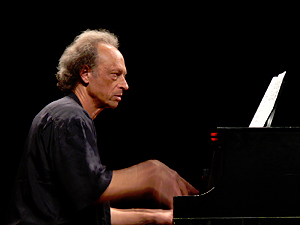 Renowned pianist, composer and educator Larry Karush died Tuesday evening, August 27, 2013. Larry Karush had been battling cancer for several years, but he had made a comeback and was doing very well recently. A few weeks ago, cancer returned aggressively and suddenly in his liver.
"Last night Larry surrendered and transitioned into the great beyond. We read every one of your loving emails, it was clear he heard them, and that he felt your thoughts, energy and prayers. Soon after, surrounded by family, he serenely let go," said his son Clayton on Wednesday, August 28.
Larry Karush was born October 6, 1946. He performed improvised music with roots in jazz, 20th and 21st century western classical music, African percussion, and the classical music of North India.
He received grants and commissions from the New York Foundation for the Arts, the NEA/Arts International, Meet the Composer, the California Arts Council, and the City of Los Angeles. He was the recipient of a Guggenheim Fellowship in music composition, and a nominee for the 2008 Herb Alpert Foundation Prize in Music.
Throughout his artistic career, Larry Karush performed jazz with John Abercrombie, Jane Ira Bloom, Jay Clayton, Bennie Wallace, and Oregon, as well as world music with Kanai Dutta, Francisco Aguabella, and Glen Velez, and contemporary classical with Steve Reich and Terry Riley, in addition to his own solo piano performances.
In the 1990s, Larry Karush joined with Glen Moore and Glen Velez to form an improvisational trio, Mokave. Their self-titled debut recording was released in 1991. In recent years, Karush toured with his own band, the Larry Karush Ensemble, featuring Dave Carpenter (bass), Kendall Key (drums), and Joey DeLeon (percussion).
In addition to live performances, Larry Karush (M.A., New York University) gave artist-in-residencies, presentation/ discussions, and workshops on his unique approach to jazz/ world/ new music composition and improvisation.
Larry Karush taught music for over 30 years in New York City and Los Angeles. He gave lectures and demonstrations at colleges and universities throughout the United States, including the Universities of California, Tufts, Brandeis, and New York, at Reed and Berklee Colleges, and at the California Institute for the Arts. As a three-year artist-in-residence and lecturer at the University of California (1991-94), he offered courses in jazz, improvisation, and world music, in addition to his own work. Most recently, Larry Karush was on the faculty of Occidental College, in Los Angeles.
Larry Karush's compositions and improvisations appeared on the ECM, Vanguard, Inner City, AudioQuest, Music of the World, Groovenote, and NAXOS record labels. His discography includes: Larry Karush / Glen Moore (1976), Mokave, Vol. 1 (AudioQuest Music, 1991), Mokave, Vol. 2 (AudioQuest Music, 1993), Afrique (1994), Piano Crossroads (Music of the World/Nomad, 1994), Art of the Improviser (Naxos, 1998).
"Larry was a kind and sensitive person, and a dear friend to me. He loved world music, and Indian and West African elements were often found in his compositions and in his approach to jazz improvisation. He played with a wide variety of musicians across the jazz, new music and world music spectra," said music producer Bob Haddad whose label Music of the World/Nomad released one of Larry Karush's albums.
Author:
World Music Central News Department
World music news from the editors at World Music Central