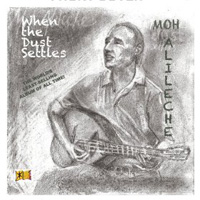 The Moh Alileche Ensemble presented this weekend the latest album by Algerian musician Moh Alileche. The new CD, titled "When the Dust Settles," was recorded in part in Algeria.
The present Moh Alileche Ensemble includes musicians from Portland (Oregon) and the San Francisco Bay Area: Alileche on lead vocals and the mandol (a stringed instrument), flutist Kevin Cloud, Diana Strong on accordion and bendir (North African frame drum), John Waller on hand drums, Pam Swan on melodica, and special guests hand drummer Leslie Jackson and Seffarine.
Moh Alileche's music celebrates Amazigh culture, also known colloquially as Berber, who were North Africa's indigenous inhabitants for thousands of years before Islam and Arab conquest and who still make up one-third of Algeria's population.
Alileche grew up in the mountainous Kabylia region of northeast Algeria and began playing music as a child with a single-stringed instrument made from aluminum can. Now he plays the mandol, a ten-string mandolin-like instrument, and sings.
Moving to the eastern side of the San Francisco Bay in 1990, he shared both his music and culture, neither given much attention in the mainstream United States of America. Last year he relocated to Portland, Oregon. In addition to original compositions, Alileche and his band perform reworkings of traditional North African Amazigh songs, mixing instrumentals and vocal numbers on an array of topics.
Buy the When the Dust Settles MP3s
Order the CD from http://www.flagoffreedom.com/ordercds
Author:
World Music Central News Department
World music news from the editors at World Music Central