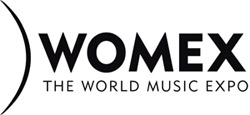 World music conference WOMEX is still accepting proposals for a commitment to bring WOMEX to a new location for the years 2015-2017. Deadline for all proposals is Friday, 14 December 2012.
Applicants are asked to indicate in their proposal whether their submission is for one, two or all of the three years.
The preferred date is the week before daylight saving:
– 21-25 October 2015
– 26-30 October 2016
– 25-29 October 2017
On the basis of the material received, a shortlist of several location proposals for further investigation will be made by Friday, 1 March 2013.
Interested parties should contact Daniela Teuber, Director of Production, at daniela.teuber@piranhawomex.com for additional information.
Only location proposals from within Europe can be accepted. It is possible for former local WOMEX partners to reapply.
The next edition of WOMEX, the most important international professional market for world music, will be taking place in Cardiff, Wales, UK, from Wednesday, 23, to Sunday, 27 October 2013. In 2014 WOMEX will be moving to Santiago de Compostela, Galicia, Spain.
The 18th edition of WOMEX in Thessaloniki, Greece, in October 2012 saw over 2,200 delegates from 90 countries, 600 exhibitors, a full conference program and a showcase festival presenting 61 acts on 8 stages.
Since its first edition in 1994 WOMEX has been travelling all across Europe from Berlin (1994), via Brussels (1995), Marseille (1997), Stockholm (1998), Berlin (1999 + 2000), Rotterdam (2001), Essen (2002 + 2004), Newcastle (2005), Sevilla (2003 + 2006-2008), Copenhagen (2009-2011) to Thessaloniki (2012).
Author:
World Music Central News Department
World music news from the editors at World Music Central