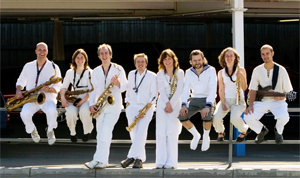 Spel (play) is the title of a new animated video by the talented illustrator and animator Mattias Gordon. It is based on the tune Lorikspolskan by the fiddler Lorns Anders Erson from Orsa, Sweden. The music is performed by Swedish band Horn Please!, and arranged by Jonas Knutsson.
Lorns Anders Erson was born in Orsa in 1846. When he played his violin the people danced. He was also a threat to social order. At 26, he disappeared on a ship to the United States of America. No one knows if he escaped, was banished, or ever arrived to the Americas. This video shows the story in animated lines.
Horn Please! plays Swedish folk music and world music on six saxophones, percussion and bass conducted by the saxophonist, composer and arranger Jonas Knutsson. The ensemble includes Jonas Knutsson on sopranino, soprano, alto, and baritone sax; Alexandra Särström on soprano and baritone sax; Å sa Johansson on soprano and tenor sax; Hanna Wiskari on soprano and alto sax; Klas Toresson on soprano and tenor sax; Daniel Carlsson on soprano sax; Bengt Jonasson on electric bass; and Petter Berndalen on percussion.
Author:
World Music Central News Department
World music news from the editors at World Music Central