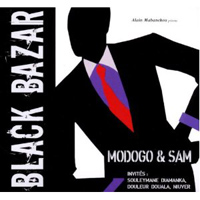 Modogo & Sam
Black Bazar (Lusafrica 562982, 2012)
The idea of bringing Congolese rumba back to its roots isn't a new one, but it's one that all sentient beings ought to support. Revivalist artists like Kekele have proved that modern, Zaire-originated soukous, enjoyable though it can be when done properly, just doesn't have the soul or spirit of the Congolese music that once was the norm.
Vocalists Modogo Abarambwa and Sam Tshintu, who for a decade or so were key members of Koffi Olomide's highly successful Quartier Latin band before leaving to form their own group and then each going solo, have now re-teamed to do their bit for the real rumba. They've named their latest collaboration Black Bazar, after a novel by Alain Mabanckou in which rumba music plays a key role. And just as the novel was about Africans in France, Black Bazar the album is about rumba as a global music known beyond the borders it originated in. And make no mistake- Modogo, Sam and their guest artists aren't out to make quaint old-timers music.
The feverish dance tempos of soukous aren't entirely absent, though the use of real instruments and lack of synthesizers and drum machines inspire dancing without artifice. It's the mesh of guitars (in the classic rhythm, solo and mi-solo structure) that marks this as the real thing, and the subtle shifts and jumps in tempo are flawlessly ridden by Modogo and Sam's vocal tradeoffs and animateur excursions. Two tracks feature the piano of Cuba's Pity Cabrera, and both are splendid examples of how rumba was locally colored when it first found its way to the West.
Not ones to hog the spotlight, Modogo and Sam bring in guest chanteurs Niuver (another Cuban) Souleymane Diamanka, Douleur Douala and CNN to further sweeten the proceedings and give the whole set an openness and warmth that the songs bespeak with the relaxed flow of Congolese rumba at its best. Highly recommended
Author:
Tom Orr
Tom Orr is a California-based writer whose talent and mental stability are of an equally questionable nature. His hobbies include ignoring trends, striking dramatic poses in front of his ever-tolerant wife and watching helplessly as his kids surpass him in all desirable traits.