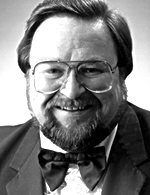 Famed musician, bandleader and independent record label owner Eddie Blazonczyk Sr. died Monday, May 21, 2012 at Palos Community Hospital in Palos Heights, Illinois from natural causes. Mr. Blazonczyk was 70 years old.
Considered Chicago's polka ambassador, Mr. Blazonczyk sent out the bright, happy strains of his beloved polka to thousands of fans throughout the Chicago area by way of the band the Versatones, over the airwaves of WCEV-AM and WPNA-AM on a radio shows he co-hosted with his wive Christine and through the independent Bel-Aire Records label.
Earning some 13 Grammy nominations, winning one in 1986 for Another Polka Celebration, Mr Blazonczyk was also a National Endowment for the Arts National Heritage Fellow, a founding member of the International Polka Association and a member of the Broadcasters Hall of Fame in Akron, Ohio. Ever the polka devotee, Mr. Blazonczyk was one of the driving forces behind the National Academy of Recording Arts and Sciences adding the polka to its list of categories, before the Academy removed the category in 2009.
Born July 12, 1941 to Polish immigrants, Mr. Blazonczyk grew up with music of the Pulaski Ballroom, a dance club his parents owned. He wasn't long before he started his first band in high school called Eddie Bell & His Hillboppers. In 1957, Mr. Blazonczyk got his first taste of fame with his rock 'n' roll band Eddy Bell and the Bel-Aires and the hit single "The Masked man (Hi Yo Silver)" on Mercury Records and with that the group earned a spot on American Bandstand.
Mr. Blazonczyk would go on to form side groups and play with the likes of bluesman Eddy Clearwater to conjure up such hits like "The Great, Great Pumpkin" and "He's a Square." Sticking to "the Chicago sound" of a slower kind of polka, Mr. Blazonczyk kept the polka spare with plenty of opportunity for improvisation. While skilled on several instruments, he would play the electric bass with his group Versatones. Mr. Blazonczyk would go on to record such albums as My Father's Shoes, Eddie Blazonczyk's Versatones: Under the Influence, Good Ol' Days with Eddie Blazonczyk's Versatones, Let's Celebrate with Eddie Blazonczyk's Versatones and Polka Medley Album with Eddie Blazonczyk's Versatones.
Mr. Blazonczyk is survived by his wife, son Eddie Jr., son Tony, daughter Kathy and grandchildren Cayle, Anya and Anthony.
A funeral mass will be held on May 25, 2012.
Author:
TJ Nelson
TJ Nelson is a regular CD reviewer and editor at World Music Central. She is also a fiction writer. Check out her latest book, Chasing Athena's Shadow.
Set in Pineboro, North Carolina, Chasing Athena's Shadow follows the adventures of Grace, an adult literacy teacher, as she seeks to solve a long forgotten family mystery. Her charmingly dysfunctional family is of little help in her quest. Along with her best friends, an attractive Mexican teacher and an amiable gay chef, Grace must find the one fading memory that holds the key to why Grace's great-grandmother, Athena, shot her husband on the courthouse steps in 1931.
Traversing the line between the Old South and New South, Grace will have to dig into the past to uncover Athena's true crime.