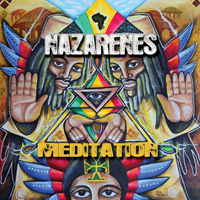 Meditation is the title of the new album by reggae band Nazarenes. The album is scheduled for release April 24, 2012 on I Grade Records.
The Nazarenes were born and raised in Addis Ababa, Ethiopia, to a family that worked for Emperor Haile Selassie, a central figure for Rastafarians. The Nazarenes includes brothers Noah and Medhane Tewolde, who currently live in Sweden. The producer, of Meditation is Laurent 'Tippy I' Alfred is from the island of St Croix in the United States' Virgin Islands.
Meditation features a mix of reggae, pop, dub, Ethiopian roots, rock and American soul with vocals in English and Tigrinya. "It's a special feeling to know that this album has so many points of connection from across the African diaspora and the world," says Alfred. "It represents the unifying force that roots reggae has always been."
"Song writing is a process," said Noah. "We go in deeper than name only." Adds Medhane, "We sing from experience and with the belief that Marcus Garvey's call for 'One Aim, One Aim, One Destiny' is possible across borders".
The Tewolde brothers originally followed separate musical paths. Noah signed with Virgin Records in the 1990s while Medhane toured Europe with Culture Knox and other reggae acts. In 1996, Noah and Medhane formed the Nazarenes. The group released a self-produced debut album titled Orit (2001). Next came Songs Of Life (2004) on Heartbeat/Rounder and Rock Firm (2008).
Author:
World Music Central News Department
World music news from the editors at World Music Central