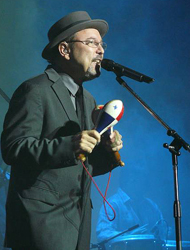 Panamanian salsa icon Rubén Blades has been added to the Roskilde Festival 2012 lineup. Roskilde Festival will be held in Denmark, July 5 – 8, 2012.
Rubén Blades is one of the flagships of politically committed "salsa dura." His business card titles include lawyer, politician and actor. However, Rubén Blades is best known as a singer and musician. Since the 1970s, Blades has recorded over 20 albums and appeared as guest in numerous recordings, spanning various musical genres. His career took off when he started singing in Ray Barretto's band in the early 1970s. He also collaborated with salsa icon Willie Colón in 1976. Many of Blades' songs contain social and political themes.
Blades won his first Grammy award in 1986 with the album Escenas. It features a collaboration with Linda Ronstadt. Since then, Blades has won five Grammy awards. His most recent recording is Todos Vuelven Live, Volume I & II (2010) recorded with his band Seis del Solar.
As an actor, Rubén Blades has appeared in several films, including Crossover Dreams (1985), The Milagro Beanfield War (1988), All the Pretty Horses (2000) and Once Upon a Time in Mexico (2003).
Author:
World Music Central News Department
World music news from the editors at World Music Central