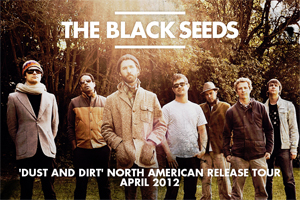 The Black Seeds, New Zealand's reggae-soul titans return with their highly-anticipated new studio album Dust And Dirt, scheduled for release in North America on April 10th through Easy Star Records.
Dust And Dirt is the 5th studio recording from the Wellington-based multi-platinum selling group whose unique brand of reggae-funk fusion has seen their fan base spread around the world in recent years. Easy Star will also be re-issuing The Black Seeds' popular back catalog on the same day, with two of the titles (On The Sun and Into The Dojo) seeing their first-ever physical release on the continent.
The band is following up on their critically acclaimed 2009 album Solid Ground, which debuted in the top 15 on the Billboard Reggae Chart and also spent 8 consecutive weeks in the 'Top 10' of CMJ's World Music Chart, and five weeks in the overall 'CMJ Top 200.'
Dust And Dirt comes off the back of a two-year creative process, which saw the band approaching song writing and recording duties in new ways.
"Working in our own studio gave us the freedom to get the best out of ourselves over a longer period of time, and to trial new techniques and tones with our own Mike Fabulous at the controls," says singer/guitarist Barnaby Weir.
Formed in 1998 and led by the soulful vocals of Barnaby Weir and Daniel Weetman, The Black Seeds' sound is a boundary-crossing fusion of dub, funk, afro-beat and soul, mixed with vintage reggae. As songwriters, importance is placed on maintaining their own original interpretations in their music and staying true to their own local culture and values – from the landscapes and coastlines of New Zealand and the South Pacific, to the urban communities of Wellington city.
Onstage, the band's ability to connect with its audience has seen The Black Seeds gain a reputation for their dynamic and supremely danceable eight-piece live shows. Effortlessly gliding between big-beat funk and deep roots-reggae, the raw energy of The Black Seeds' live show is infectious and has gotten them regular performances at many of Europe, Australia, and New Zealand's biggest music festivals. With their upcoming North American tour kicking off in April (Full Dates Below), The Black Seeds are ready to keep building their profile and performing in front of new audiences. Don't miss them in a city near you!
"We are really psyched to be working with The Black Seeds again, both on Dust And Dirt and their back catalog. They are a perfect Easy Star band: they have a deep understanding and feel for the roots and foundation of reggae, while relentlessly pushing their music in new soulful, funky and progressive directions – and they put on an amazing live show!" states Easy Star co-founder Lem Oppenheimer. "We can't wait for their NY show, which will be our first chance to see them in person in two years."
The Black Seeds – 2012 North American Tour Dates
April 05 – Los Angeles, CA – El Rey Theater
April 06 – San Diego, CA – Winstons
April 07 – Santa Barbara, CA – Soho
April 08 – San Francisco, CA – Slim's
April 10 – Victoria, BC – Club 9one9
April 11 – Vancouver, BC – Fortune Sound
April 12 – Seattle, WA – The Crocodile
April 13 – Denver, CO – Cervantes Masterpiece Ballroom
April 14 – Boulder, CO – Fox Theatre
April 15 – Brooklyn, NY – Brooklyn Bowl
April 17 – Ithaca, NY – Castaways
Author:
World Music Central News Department
World music news from the editors at World Music Central