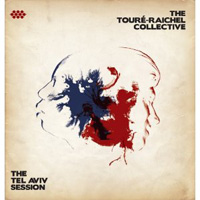 The Toure-Raichel Collective
The Tel Aviv Session (Cumbancha CMB-CD-22, 2012)
It happens more and more nowadays. Two musicians from different backgrounds have a chance encounter, make music together and wind up taking it a step further by collaborating on a whole album. Israeli keyboard wizard Idan Raichel and Malian guitar great Vieux Farka Toure are indeed different: Raichel is a Jew who heads up the Idan Raichel Project, a band that works Middle Eastern, African, European and techno music into a big, lush global sound, whereas Toure, a Muslim, specializes in a rockish version of the Saharan desert blues made popular first and foremost by his father, the late Ali Farka Toure. Okay, now that the differences have been laid out, forget about them entirely.
The two first met at an airport in Germany four years ago, had a successful off-the-cuff jam session onstage at the Tel Aviv Opera House in 2010, then went into a studio the next day to see if some of that live energy could be captured on a recording. And boy, did they capture it. With Raichel on acoustic piano and Toure on similarly unplugged guitar, the duo trade off largely improvised riffs, melodies, ideas and creative sparks that somehow emerge as fully realized compositions on this album's 63 minutes (the session itself reportedly only lasted about three hours).
Accompanied by noted Israeli bassist Yossi Fine and Toure's percussionist Souleymane Kane on calabash, the music moves through moods and textures taken primarily from Toure's area of expertise, though Raichel's piano playing (which includes plucking the instrument's strings in kora-like fashion) adds many a dimension. After the initial round of recording, Raichel set about honing the pieces production-wise, bringing in members of his own band to contribute vocals, tar (Persian lute), kamancheh (Central Asian fiddle) and harmonica in a few spots. As a result, The Tel Aviv Session builds upon the inspired spontaneity of the core foursome to include bluesy jamming, Ethiopian modality, delicate chamber music-like excursions and shared creativity by the bucket load. This is one glorious album, and you can expect to hear a lot more about it.
Author:
Tom Orr
Tom Orr is a California-based writer whose talent and mental stability are of an equally questionable nature. His hobbies include ignoring trends, striking dramatic poses in front of his ever-tolerant wife and watching helplessly as his kids surpass him in all desirable traits.