Scheduled to make its timely entrance on the Australian national festival scene in late October, Adelaide's Earth Station http://www.earthstationfestival.com.au could not have selected a more appropriate headline act or feature work for its inauguration. The Kronos Quartet's performance of Sun Rings and the enlightened eco-orientated boutique companion event to WOMADelaide, Australia's premier world music festival are simply made for one another.
Violinist David Harrington, leader of the world's most celebrated string quartet, is quick to concur. "When I heard about the festival from [event director] Ian Scobie, I thought it sounded exactly like what I imagined music festivals of the future should be. It's pointing in the direction that I want our work to be pointing."
Sun Rings is a 90-minute musical odyssey into deep space commissioned by NASA and created through a collaboration between Kronos Quartet and the distinguished composer Terry Riley, who have enjoyed a long and fruitful association, and multimedia director Willie Williams (U2 etc). Featuring the sounds of outer space, as captured by the Voyager spacecraft, the score of ten movements, will be performed by Harrington and his three colleagues — John Sherba (violin), Hank Dutt (viola) and Jeffrey Zeigler (cello) — and a local choir, the Adelaide Chamber Singers, with vintage footage of space compiled by Williams as a stunning backdrop.
When he heard the eerie whistles, sirens and booms from outer space for the first time, Harrington recalls they sounded like part of nature, but not like any sounds he had ever heard before. "It was amazing … I was absolutely fascinated." He immediately thought of Terry Riley. "I realized he might be able to do something with them that would be astonishing. The sounds didn't start life as sounds as we know them; they came from plasma waves," reveals the Kronos frontman. "I realized there was a new aspect of nature that had to become part of our work." The project was put on hold following the trauma of 9/11. "When Terry went back to writing he realized the piece would need to take a different direction, be kind of looking outward — not light years away and looking back We arrived at a better appreciation of what we had to do."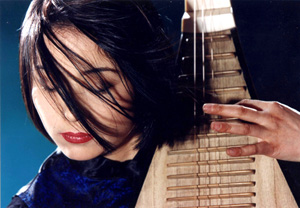 In addition to a variety of composers, the world's most eclectic classical ensemble has collaborated with numerous artists from around the planet, chief among them the Chinese musician Wu Man, who's also locked in for the inaugural Earth Station. "She's at the top of Kronos's list," says Harrington, who names projects with Tom Waits, Asha Bhosle and Azerbaijani singer Alim Qasimov as other favorites. A virtuoso of the lute-like pipa, Wu Man performed with Kronos when both supported Bollywood legend Bhosle at WOMADelaide four years ago. They teamed up again in Australia earlier this year to deliver a Chinese-themed double bill Ghost Opera and Chinese Home at the Sydney International Festival. While he's non-committal about what might happen at Earth Station, Harrington hints that a performance of The Cusp of Magic, a piece that Terry Riley wrote for string quartet and pipa in 2005, is on the cards. He says the quartet would also relish the opportunity to perform with Malian kora player Toumani Diabate in Adelaide. "We haven't played with Toumani yet, though we've met him and we've spoken about things. He's one of the great instrumentalists of our time. It would be wonderful if Earth Station were the first time that he and Kronos played together."
Over the years the Kronos Quartet has performed with a multitude of artists from different genres, including Inuit throat singer Tanya Tagaq, Mexican rockers Café Tacuba, the Romanian gypsy band Taraf de Haïdouks, Indian percussion master Zakir Hussain, the Modern Jazz Quartet, Rokia Traoré, Betty Carter and David Bowie. They have also appeared on recordings by such diverse talents as Nine Inch Nails, DJ Spooky, Dave Matthews, Nelly Furtado and Joan Armatrading. Their music has also featured prominently in other media, including film (Requiem for a Dream, 21 Grams, Heat, True Stories) and dance, with such noted choreographers as Merce Cunningham, Paul Taylor, Twyla Tharp, and Eiko & Koma setting pieces to Kronos' music. Yet the quartet, which has been in existence for over 30 years, somehow also manages to spend five months of each year on tour.
While the Kronos Quartet has broken pretty well every genre barrier that might normally be imposed on a string quartet, from renditions of Jimi Hendrix, Frank Zappa and Sigur Ros, to jazz, world music and experimental music, Harrington declares, with a chuckle: "We're just getting started. The world of music is so vast. We've got a bunch of surprises coming up." Asked to elaborate, he says: "We're doing a piece later this year using these new bows called K-bows that allow us to interact with samples of Weddell seals, recorded under the ice in Antarctica. The seals sound like synthesizers from future times. It's totally awesome." Another project, he reveals, involves Laurie Anderson. "She's writing a series of songs for us that we're gonna be doing with her."
While moving around so much musically has obviously helped to keep Kronos on its collective toes, David Harrington says the quartet needs little motivating. "We're inspired every day by so many different forces. I don't think there's any piece that we play that we're tired of; it's like we're just having a great time playing our music and in the process we get to work with some of the most creative people on the planet."
About Earth Station
Earth Station (October 21-23) is the brainchild of the producers of the hugely successful annual WOMADelaide festival and the first major festival in the South Australian capital, Adelaide, to offer camping facilities.
Held in the salubrious surrounds of Belair National Park, South Australia's oldest national park, the music program features 19 acts from across Australia and the world. The international contingent includes the Kronos Quartet (USA), Abdullah Ibrahim (South Africa), Toumani Diabate (Mali), Konono #1 (Congo), Wu Man (China/USA), Zakir Hussain (India) and The Tallest Man On Earth (Sweden).
Alongside the music program will be a series of Planet Talks by leading scientists, academics, writers and thinkers, including Roy Neel (Chief of Staff to Al Gore, former US Vice President) and actor Cate Blanchett.
• The above interview first appeared in Rhythms, Australia's only dedicated roots music magazine, for which the author is World/Folk correspondent.
Author:
Tony Hillier
Tony Hillier is based in Cairns in far north Queensland, from where he has been actively involved in all areas of the music industry in Australia for the past 25 years, primarily as a journalist, writing for national publications such as the Weekend Australian and Rhythms magazine (for which he is World Music & Folk correspondent), and performing locally, nationally and internationally with the bands Kamerunga and Snake Gully. He has also presented and produced World Music and Folk music programs for ABC Far North, Port Douglas Radio and 4CCR-FM, netting a CBAA Best Specialist Music Program Award with the last-named for a documentary on flamenco. Before coming to Australia, he was a racing journalist of some repute in the UK, where he wrote a column for the London Evening Standard under the nom-de-plume of Ajax.