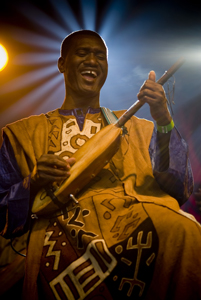 Bassekou Kouyate and Ngoni Ba at Duke University
October 14, 2011
For those of you lucky enough to already have tickets to Bassekou Kouyate's and Ngoni Ba's remaining North American concert dates burning a hole in your pockets you should pull up your socks and slick back your hair because you are in store for a stunning world music concert. For the rest of you…well… you should get on the Web, slip into your car, hop onto your bike or slip into your rowboat and snag any remaining tickets before it's too late.
I caught Friday's October 14th concert at Duke University's Reynolds Industries Theater. Kudos have to go to Duke Performances for snagging this extraordinary artist in their 2011/12 season lineup. From the opening strains of Mr. Kouyate's ngoni backstage through to an inspired encore this concert was savagely good. The Malian sensation Mr. Kouyate was backed by Ngoni Ba with ngoni players Barou Kouyate and Mousa Bah, bass ngoni player Fousseyni Kouyate, calabash percussionist Alou Coulibaly and tamani and yabara percussionist Moussa Sissoko. Mr. Kouyate's wife Amy Sacko was the group's lead vocalist.
Dipping into a wealth of bluesy Malian tunes and offering a couple of centuries-old songs once reserved for royalty, Mr. Kouyate and Ngoni Ba entranced listeners with the warm richness of Malian music that encompasses both the bright work that is intrinsic to African music and the lonesome soulfulness that brought about the blues. My fortune was to have a seat close to the stage to hear Mr. Kouyate's vocal responses to particular ngoni riffs. I was a little sorry that he wasn't miked for vocals with his ngoni electrified because I think those farther back in the theater couldn't hear him because then there could be no doubt that the origin of the blues started in Africa.
Swamping the audience with ngoni solos by Mr. Kouyate and the two Ngoni Ba ngoni players that would make Eric Clapton look like a slacker, infusing the theater with potent rhythms that had audience thrumming in their seats and Ms. Sacko's vocals rising like dreamy summer heat waves the concert was a knock-down-out success. As if you needed any more incentive to catch this concert it would certainly have to be Mr. Sissoko's performance on the tamani or talking drum. His irrepressible energy throughout the concert with the shaker or yabara was entertaining enough but his artful playing of the tamani was pure poetry in motion.
Bassekou Kouyate recordings available:
North American Tour Dates:
10.18.11 – Mexico City, Mexico – El Plaza Condesa
10.20.11 – New York, NY – Lincoln Center
10.21.11 – Arden, DE – Gild Hall
10.22.11 – Black Mountain, NC – Lake Eden Arts Festival
10.23.11 – Black Mountain, NC – Lake Eden Arts Festival
10.26.11 – Pittsburgh, PA – Carnegie Museum of Art
10.30.11 – San Francisco, CA – YBCA Forum
10.31.11 – Santa Cruz, CA – Rio Theatre
11.02.11 – Minneapolis, MN – Cedar Cultural Center
11.04.11 – Cleveland, OH – Cleveland Museum of Art
11.05.11 – Atlanta, GA – Rialto Theater
11.10.11 – Vancouver, BC – Red Room on Richards
11.11.11 – Portland, OR – Mississippi Studios
11.12.11 – Seattle, WA – University of Washington
11.16.11 – Dayton, OH – University of Dayton
11.17.11 – Louisville, KY – Clifton Center
11.18.11 – Columbus, OH – Wexner Center
11.19.11 – Hamilton, OH – Miami University
11.24.11 – Montreal, QC – L'astral
11.25.11 – Quebec, QC – Palais Montcalm
11.27.11 – Toronto, ON – Great Hall
Author:
TJ Nelson
TJ Nelson is a regular CD reviewer and editor at World Music Central. She is also a fiction writer. Check out her latest book, Chasing Athena's Shadow.
Set in Pineboro, North Carolina, Chasing Athena's Shadow follows the adventures of Grace, an adult literacy teacher, as she seeks to solve a long forgotten family mystery. Her charmingly dysfunctional family is of little help in her quest. Along with her best friends, an attractive Mexican teacher and an amiable gay chef, Grace must find the one fading memory that holds the key to why Grace's great-grandmother, Athena, shot her husband on the courthouse steps in 1931.
Traversing the line between the Old South and New South, Grace will have to dig into the past to uncover Athena's true crime.