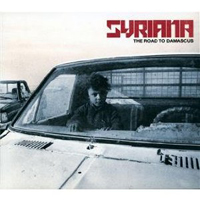 Syriana
The Road to Damascus (Real World, 2011)
It's impossible not to be swept away on the opening strains of Real World's The Road to Damascus. This wide, open sky, cinematic feeling recording is the result of the collaboration of Abdullah Chhadeh, Bernard O'Neill and Dubulah. Dubbing itself "a Paris, Texas-like meditation from the Syrian desert," The Road to Damascus is an evocative and exotic listen into the musical bridge between East and West, full of the extravagance of the qanun, the boldness of guitar and keyboards and the lushness of strings provided by The Pan Arab Strings of Damascus.
The Road to Damascus started out as a collaborative project between guitarist, bassist and producer Nick "Dubulah" Page and qanun master Abdullah Chhadeh. Soon the pair was joined by double bassist and composer Bernard O'Neill. Well, then the project just got bigger with the additions of famed vocalist Lubana Al Quntar, accordion master Mazzin Abu Sayf, percussionist Sherif Ibrahim and others. Writing and arranging all the tracks on the recording and Mr. Chhadeh providing the Arabic lyrics, The Road to Damascus is a dizzying fantasy on the possibilities of new Arabic music.
The title track opens the CD and comes across with a wide, open feel to it, punctuated by thick rhythms and caressed by some soaring backing vocals. Full of oud, qanun and sweeping strings, it's what you'd hear if you had a soundtrack to first entering a foreign city. The following track "Syriana" is just as dishy, only in a darker and deeper way with thrumming bass against qanun, lanky guitar lines and shimmering percussion. Lubana Al Quntar against a backdrop of strings and accordion dominates "Gharibb," proving that you'd let her walk all over you if she would just keep singing to you.
Other gems include the razor sharp spy slickness of "Black Zil," the lushly exotic "Al Mazzeh" and the darkly mysterious "Jannat al Dunia." "The Templehof File" breezes out like something out of a spy thriller and "A Ya Zain" is its noir counterpoint all in weighy bass lines. "Love in a Time of Chaos" possesses that Paris, Texas feel complete with lazy guitar lines but comes out a desert feel instead of a wind swept landscape in Texas.
The Road to Damascus is strikingly wonderful and I suspect that more than a few listeners will be playing spy on their daily commute with this as their soundtrack.
Author:
TJ Nelson
TJ Nelson is a regular CD reviewer and editor at World Music Central. She is also a fiction writer. Check out her latest book, Chasing Athena's Shadow.
Set in Pineboro, North Carolina, Chasing Athena's Shadow follows the adventures of Grace, an adult literacy teacher, as she seeks to solve a long forgotten family mystery. Her charmingly dysfunctional family is of little help in her quest. Along with her best friends, an attractive Mexican teacher and an amiable gay chef, Grace must find the one fading memory that holds the key to why Grace's great-grandmother, Athena, shot her husband on the courthouse steps in 1931.
Traversing the line between the Old South and New South, Grace will have to dig into the past to uncover Athena's true crime.