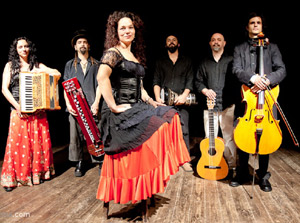 Portuguese world music band Mu will be touring Spain in April 2001. The band from Oporto combines traditional Portuguese music with global sounds and musical instruments from India, Sweden, Greece, Egypt, Brazil, Morocco and Australia.
Band members include Osga on bulbul tarang, didgeridoo, jew's harp, percussion; Dulce Cruz on accordion, dance; Helena Madeira on vocals, dance; Ferrer Leandro on guitar; Nuno Encarnação on congas, riq, darbuka, percussion; and Sérgio on cello, morharpa, bouzouki
Mu has two albums, Mundanças and Casanostra (Carlos Paredes 2009 award), have performed at the leading festivals in Portugal and have also performed abroad, in Spain and Eastern Europe.
Tour dates:
* April 1: Festival Folkarria, 23:00h (Torres de la Alameda, Madrid)
* April 2 and 3: Madrid (to be determined)
* April 5: Sala Clamores (Madrid), 21:30h
* April 15: Mieres. Auditorio Cajastur. 20:00h.
Author:
World Music Central News Department
World music news from the editors at World Music Central