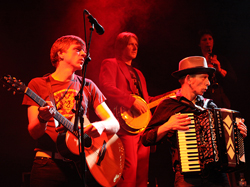 Folkinvierno Las Rozas 2011 will be held February 3 through February 26 at Auditorio Joaquín Rodrigo in Las Rozas (Madrid). The annual folk and world music festival is held in the city of Las Rozas, near the the Spanish capital.
the artists scheduled for the 2011 edition include Berlin-based world music collective 17 Hippies, Portuguese band Gaiteiros de Lisboa and Spanish acts Kéltiber, Urbàlia Rurana y La Romántica del Saladar, Asturiana Mining Company, Hato de Foces, Folkincats and A Contraluz.
The Spanish bands represent the contemporary forms of folk music various parts of the Spain. Hato de Foces hail from Aragon. Urbàlia Rurana and La Romántica del Saladar represent the music of the Valencia region.Kéltiber from Valladolid (Castille) and Folkincats (Catalonia) fuse folk music with rock and jazz. Asturiana Mining Company presents a contemporary vision of Asturian Celtic music.
Program
February 4
Kéltiber
February 5
Urbàlia Rurana y La Romàntica del Saladar
February 11
Asturiana Mining Company
February 12
Hato de Foces
February 18
Folkincats
February 19
Gaiteiros de Lisboa
February 25
A Contraluz
February 26
17 Hippies
All concerts are held at Auditorio Joaquín Rodrigo, Avenida del Polideportivo 18 in Las Rozas (Madrid)
Time: 20:00
17 Hippies Recordings available:
In North America: Heimlich, El Dorado, Sirba, Ifni Ifni, 17 Hippies Play Guitar, Live In Berlin
In Europe: El Dorado, Heimlich, Live in Berlin, 17 Hippies Play Guitar, Ifni Ifni, Sirba
Gaiteiros De Lisboa recordings available:
Urbália Rurana recordings available:
Asturiana Mining Company recordings available:
More at www.myspace.com/folkinvierno
Author:
World Music Central News Department
World music news from the editors at World Music Central