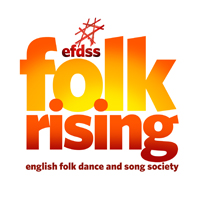 Following the successful spring series of gigs, Folk Rising returns to Cecil Sharp House for a second season with the brightest new folk in the firmament. The three-part studio concert series presented by the English Folk Dance and Song Society (EFDSS) and The Magpie's Nest will showcase a sample of the fresh, undiscovered and at times radical music being produced within the indefinable folk tradition.
October 20 also features a special collaborative performance from Algerian musician Yazid Fentazi, who performs his own style of contemporary North African fusion on oud and other instruments, and Ewan McLennan, a compelling Scottish singer and guitarist performing both traditional songs and his own compositions with sensitivity and great sincerity. Yazid is a member of Cultural Co-Operation's Artist Network.

With the burgeoning profile that folk music has achieved in recent years never has there been a showcase opportunity for the music-makers approaching folk from the 'outside' as well as those from 'within'. Under the banner of 'New Folk, Old Folk, No Folk' this will be a roulette of a musical experience charting the daring and the dangerous, the wonderful and the weird.
Artists featured include:
20 October:
Ewan McLennan, Yazid Fantazi, Olivia Chaney, The Dead Rat Orchestra, The City Shanty Band
17 November:
Sam Lee and the Gillie Boys, The Staves, Skinny Lister, Tommy McCarthy
3 December:
Jonny Kearney & Lucy Farell, The Wandering Minstrels Ed & Will, Nick Hart, The Seazora
Presented by the EFDSS and The Magpie's Nest, winner of the BBC Radio 2 Folk Awards Folk Club of the Year 2010.
Tickets: £5
For more information on this event or to book tickets, please visit the EFDSS website at http://www.efdss.org
For more information on The Magpie's Nest, please see the website at http://www.themagpiesnest.co.uk
Author:
World Music Central News Department
World music news from the editors at World Music Central