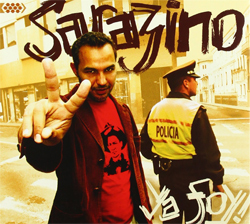 Currently based in the high Andean mountains of Quito (Ecuador), Sarazino is the brainchild of Lamine Fellah, a musician, songwriter and producer whose nomadic life is reflected in the multicultural influences in his songs. Fellah is a true child of a globalized world and Sarazino's music draws on reggae, Latin and African grooves, Arabic music and catchy, international pop to create an upbeat celebration of the diverse world we all share.
This summer, Sarazino tours North America for the first time, performing at celebrated venues including San Francisco's Stern Grove Festival, the Sierra Nevada World Music Festival, and Montreal's Nuits d'Afrique as well as sharing bills with superstars such as Mos Def, Angélique Kidjo and the Skatalites. He will be promoting his latest album, Ya Foy!.
Born in Constantine, Algeria, Fellah's father was a diplomat who brought the family to live in Spain and Switzerland as well as the African countries of Burundi and Burkina Faso. The young Fellah was inspired by the music that surrounded him, from Spanish flamenco and North African rai, to Afrobeat and roots reggae. Fellah moved to Montreal for college and made the musically active Canadian city his home for fifteen years. His global travels eventually led him to Quito, Ecuador where he fell in love with Latin America and its music and decided to settle there to focus on recording and producing.
Ya Foy! (which means "no problem" in the Dioula language of West Africa), the acclaimed album that was released last year on Cumbancha Discovery, includes guest appearances by Jamaican reggae legend Toots Hibbert of Toots and the Maytals fame, as well as toaster Blanquito Man from the Latin ska/rock band King Chango. With a mix of African vocals, jamming electric guitar riffs, dancehall shout outs and fun, funky reggae Sarazino's musical mélange is a savory stew of catchy, upbeat songs that offer a soundtrack for a true world party.
Ya Foy Tour 2010
06-17-2010 San Jose, CA
Music in the Park
06-19-2010 Boonville, CA
Sierra Nevada World Music Festival
06-20-2010 San Francisco, CA
Stern Grove
06-23-2010 Santa Cruz, CA
Moe's Alley
06-24-2010 San Diego, CA
World Beat Center
06-25-2010 Pasadena, CA
Levitt Pavillion
06-26-2010 Ensenada, Mexico
Culture Beat
07-02-2010 Dornbirn, Austria
Oregano Festival
07-07-2010 Miami, FL
Bardot
07-08-2010 Boston, MA
Johnny D's
07-09-2010 Middlebury, VT
Middlebury College
07-10-2010 Cabot, VT
Festivus for the Restivus: The Manifestivus
07-11-2010 New Haven, VT
Tortourelle
07-14-2010 New York, NY
SOB's
07-15-2010 Philadelphia, PA
The Kimmel Center
07-16-2010 Montreal, QC
Nuit's D'Afrique
07-17-2010 Vancouver, BC
Vancouver Folk Music Festival
Buy Ya Foy!
Freee download – Ecos de Radio Iguana
Author:
World Music Central News Department
World music news from the editors at World Music Central