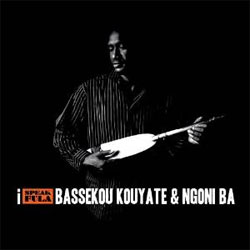 After conquering Europe, Bassekou Kouyate & Ngoni Ba are now moving on to the United States of America. Their debut album Segu Blue had already laid a solid foundation for Bassekou's reputation with African music fans in the U.S. (where it was released via Out Here Records/ Forced Exposure). This has led to a sensational U.S. tour with more than 60 dates starting out in February 2010 opening for nine-time Grammy winner Bela Fleck and goes on for three months taking them from New York's Central Park down to the New Orleans Jazz festival.
Just in time for the tour Out Here Records announced a new label partner in the U.S.: Seattle-based indie rock label Sub Pop has now licensed Bassekou Kouyate's second album I Speak Fula. The album will be the first release on their newly founded sub label Next Ambiance, a collaboration between Sub Pop Records and Jon Kertzer, presenter of the 'Best Ambiance' show on Seattle-based public radio station KEXP.
"I've listened and learned so much from Jon's show for half of my life," states Jonathan Poneman who co-founded Sub Pop Records in 1988 with Bruce Pavitt. "It just seemed natural to put his knowledge, resources and remarkable taste to further use. Our first release with Bassekou Kouyate and his incredible band Ngoni ba is the perfect way to begin this new adventure. Their album I Speak Fula captures this truly original music, like nothing you have heard before."
The success story of Mali's Bassekou Kouyate and his band Ngoni Ba started in 2007 when Munich-based label Out Here Records released their debut album Segu Blue. The album received critical acclaim and won the band the coveted honor of performing on the 'Later with Jools Holland' TV show on BBC 2, as well as two BBC Radio 3 Awards for World Music (Album of the Year and Best African Act).
Bassekou transformed the traditional music of the ngoni for the modern world and his band's second effort, I Speak Fula (released by Out Here Records on 21 September 2009 in Europe), conveys the energy and infectious intensity of the band's live performances. Unsurprisingly, this album also received widespread critical acclaim and in October 2009 Bassekou performed on 'Later with Jools Holland' for the second time, alongside Yoko Ono, Smokey Robinson, The Dead Weather and Basement Jaxx.
Sub Pop was the original home to such legendary bands as Nirvana, Soundgarden and Mudhoney, and has enjoyed more recent success with such artists as The Postal Service, The Shins, Iron & Wine, Band of Horses, Flight of the Conchords and Fleet Foxes. Sub Pop now welcomes Next Ambiance to its family of subsidiary labels that also includes Hardly Art. Initially, Sub Pop/Next Ambiance will be putting out only few releases, partly because – as the label states – "it's going to take a particularly brave artist or artists to follow Bassekou!"
Sub Pop/Next Ambiance will release I Speak Fula throughout North America, as well as Australia and New Zealand. The U.S. digital release on iTunes is scheduled for 1 December 2009 with a CD release to follow on 2 February 2010. "I am very excited to be working with Sub Pop on the Next Ambiance imprint to release the best of the world's music, innovative and ground-breaking sounds that follow new paths," stated Jon Kertzer.
Buy Bassekou Kouyate's releases:
Author:
World Music Central News Department
World music news from the editors at World Music Central