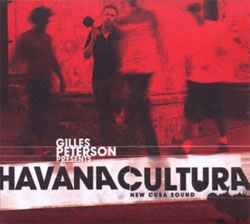 The Havana Cultura live band will celebrate the album release of Havana cultura on November 20th of 2009 at New Inn Yard in London. BBC Radio 1's Gilles Peterson teamed up with the award-winning Cuban jazz pianist Roberto Fonseca to find the very best up and coming musical talent in Havana. Twelve months in the making, it represents the biggest collection of contemporary Cuban musicians in a single musical initiative since the highly acclaimed Buena Vista Social Club project in 1997.
The result is a double CD album which celebrates Cuba's freshest musical talent from Latin, Afro jazz and fusion to hip hop, funk, reggaeton and R&B, featuring contributions from Gilles' favorite new discoveries. New talent such as vocalist Danay (described by Gilles as "Cuba's Jill Scott") and Doble Filo, in addition to international award-winning artists such as rapper Kumar and pianist Roberto Fonseca.
The launch party will be hosted by Gilles Peterson who will be spinning his favorite Cuban tracks from past to present. The 9-piece Havana Cultura Band will headline this Cuban extravaganza with an a selection of the album's biggest tracks with vocals from Havana Cultura mainstays Ogguere and Danay who are flying in live and direct from Havana.
Ogguere is the elder statesman of Cuban rap. Members Edrey and Ulises got together in the early 1990s, blending a mixture of Cuban rhythms – mambo, son and cha-cha-cha – with funk, rumba and rap to create their own inimitable hip hop hybrid. A 24 year-old soul sister who has already drawn comparisons with the likes of Erykah Badu and Jill Scott, Danay eschews a gangster lean for a more conscious delivery, switching effortlessly between honeyed vocals and effortless rhyme flows.
DJ support comes from London's Sofrito crew – Hugo Mendez, Frankie Francis and the mysterious Mighty Crime Minister. Renowned for their legendary Tropical Warehouse parties in London's East End.
Buy the recording:
Havana Cultura is a global art initiative from Havana Club rum, window on contemporary Cuban culture developed to give the spirit of Havana a global voice. The aim of the project is to give modern Cuban artists, from the city of Havana, a unique platform to showcase their work internationally and convey their true way of life. More at http://www.havana-cultura.com.
29 New Inn Yard, E2 2EY
8PM – 2AM
Friday November 20th 2009
Limited Tickets: £12
http://www.wegottickets.com/event/62770
Author:
World Music Central News Department
World music news from the editors at World Music Central