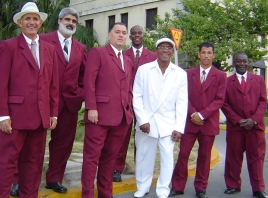 Sound Culture and Mateo Productions will host an exclusive evening with Cuba's legendary and timeless son ensemble Septeto Nacional Ignacio Piñeiro, the Cuban son group founded by master musician Ignacio Piñeiro in Cuba in 1927. The ensemble is set to tour the US from late October through early December 2009. This historic event marks the first time a Cuban artist is granted a visa to perform in the US since 2003. Chicago tour date confirmed for November 22nd 2009, 7pm at Alhambra Palace Restaurant located at 1240 W. Randolph. Doors open at 5:30pm. Tickets $28 in advance until Friday November 20th and $35 thereafter.
Cuban sonero and composer Ignacio Piñeiro founded Sexteto Nacional as Columbia Records' answer to RCA Victor's popular Sexteto Habanero, later adding a 7th member and so defining the classic septet sound. Today, third-generation descendants of Septeto Nacional continue to define Cuba's consummate son tradition.
This third generation of Septeto Nacional musicians garnered a 2004 Grammy nomination for their album Poetas del Son and then, in 2007, toured successfully to celebrate 80 years of musical history. Septeto Nacional de Ignacio Piñeiro is a group that became a standard bearer for traditional Cuban Son introducing countless songs into the repertoire of classic Cuban son such as "Echale Salsita", "No jueges con los Santos" and "Coco Mai Mai". Septeto Nacional de Ignacio Piñeiro features the most prominent musicians in the genre.
Buy the group's recordings:
In North America: Soneros de Cuba, Son Es lo Mas Sublime, Mas Cuba Libres, Septeto Nacional De Ignacio Piñeiro, Entre Preciosas Palmeras, El Son de Altura, Sones Cubanos, Poetas del Son, 1935-1945, Hecho en Cuba, Sones Cubanos, 50 Aniversario, Lejana Campina, Soneando, Son, Cuba 1928-1930, Son le la Loma, Desafiando al Destino
Tickets available through Brown Paper Tickets brownpapertickets.com.
Author:
World Music Central News Department
World music news from the editors at World Music Central