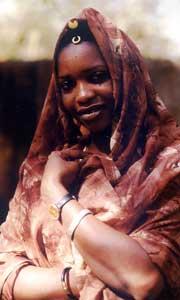 Ramata Diakite, regarded as one of the most talented singers from the Wassulu region of Mali, died October 30 in Burkina Faso. She was 35. "During the past year, she had been battling a chronic illness, and although she appeared to be getting better, she passed in Burkina Faso on Friday, October 30th,' said her manager Erich Ludwig. "She had recently traveled to Burkina [Faso]. Her body is being brought back to Mali under the direction of the Malian Prime Minister."
Ramata Diakite Ramata Diakite was born in 1976 in Madina Diansa, in the Wassulu region of southern Mali. She became a star in Mali at a young age. In 1999, kora master Toumani Diabate invited her to participate in Taj Mahal's Kulanjan project. That opportunity opened the doors to other collaborations with American musicians. She recorded Maba in 2006 with Malian and American musicians in New York.
In 2006, she won the Tamani d'Or (Mali's top music award) for Best Female Artist of the Year. In recent years, Ramata participated in various recording projects, including Dee Dee Bridgewater's Red Earth (2007) and What About Me? (2009), the second album by UK duo 1 Giant Leap (Jamie Catto and Duncan Bridgeman).
Her discography included the following recordings: Artistes (1995), Na (1998), Confirmation (2000), Djonya (2003), Djonya (2003), I Danse (2004), Maba (2006).
Ramata had been working on a new recording. "Over the past couple of years, we worked with her on conceptualizing and recording a more traditional album, which is yet to be released," said Erich Ludwig. "We had hoped to have her in the US for a tour in 2010."
Author:
World Music Central News Department
World music news from the editors at World Music Central