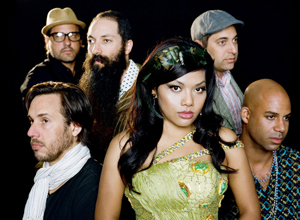 Cambodian surf rock band Dengue Fever, of Montreal and legendary pop dominatrix Grace Jones will perform Sunday July 26 at 7pm at the Hollywood Bowl. The venue is located at 2301 N. Highland Ave. in Hollywood.
Dengue Fever's psychedelic take on the Cambodian pop sounds of the 60s makes them a unique success story. Brothers Ethan (keyboards) and Zac (guitar) Holtzman started Dengue Fever in 2001 when they discovered they shared a love for the Cambodian pop music of the 60s. After adding sax man David Ralicke (Beck/Brazzaville), drummer Paul Smith and bassist Senon Williams, they went looking for a Cambodian singer. Enter Chhom Nimol, who performed regularly for the King and Queen of Cambodia. Her powerful singing, marked by a luminous vibrato and stage moves based on traditional dances, complemented the band's driving Cambodian/American sound.
Venus on Earth is the third chapter in the band's continuing journey to create a unique fusion of Cambodian and American pop. This time out, the songs are more American and more Cambodian, a sound that honors both cultures while fashioning its own singular identity. Dengue Fever recently released a DVD documentary film Sleepwalking Through The Mekong with an accompanying CD soundtrack. Sleepwalking follows the band to Cambodia in 2005 when they became the first Western band to perform Khmer Rock since the fall of the Khmer Rouge.
An unforgettable figure, Grace Jones emerged from the age of disco to become an icon of the new wave and experimental scene of the 80s. She secured a record deal with Island Records in 1977, which resulted in a string of dance-club hits and three disco albums, Portfolio (1977), Fame (1978) and Muse (1979).
Toward the end of the 70s, Jones adapted the emerging new wave music to create a different style, both in her music and appearance. In the 80s, she released the acclaimed albums Warm Leatherette (1980), Nightclubbing (1981), Slave to the Rhythm (1985) and Bulletproof Heart (1989), and gave birth to the singular look for which she is now known as much as she is for her music. After a self-imposed hiatus, Jones emerged as part of last summer's Massive Attack-curated Meltdown festival in the U.K., a much anticipated performance that exceeded any comeback expectations.
The Hollywood Bowl performance will include the natural combination of music from her latest recording Hurricane, theatrics and fashion that define a Grace Jones concert. For this special performance, Jones will debut new costumes and hats in a bold and dramatic production.
With a shared approach of integrating music with a boundary-pushing stage presentation, of Montreal is perhaps one of the most appropriate acts to share the stage with Grace Jones. of Montreal's singer and songwriter, Kevin Barnes, explores the deepest and darkest places of his psyche in both the complicated and catchy music of Skeletal Lamping, of Montreal's 2008 release, and their over-the-top stagecraft. of Montreal's eccentric theatrics, which will include performance artists for the Hollywood Bowl show, include provocative and outlandish sets and costumes – perhaps the only thing missing is Ziggy Stardust.
Tickets ($10 – $98) are on sale now at HollywoodBowl.com, at the Hollywood Bowl Box Office (Tuesday–Saturday, 12 p.m.–6 p.m.), or by calling Ticketmaster at 800.745.3000, and at all Ticketmaster outlets. Groups of 10 or more may be eligible for a 20% discount, subject to availability; call 323.850.2050 for further details or group sales. For general information or to request a brochure, call 323.850.2000.
For more information visit www.hollywoodbowl.com.
Author:
World Music Central News Department
World music news from the editors at World Music Central