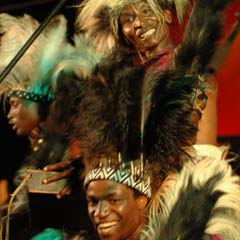 Sunday, July 12, marks the last day of concerts at the Rainforest World Music Festival 2009 in Sarawak (Malaysia). The line-up for today includes the following renowned acts: AkashA (Malaysia), Red Chamber (Canada/China), Inti-Illimani (Chile), Muzsikás (Hungary), and Zawose Family (Tanzania).
The concerts are preceded by a series of workshops where the musicians that are participating in the festival provide demonstrations about their musical instruments and later jam with musicians from the other bands that are also performing at the festival.
A press conference was held at 11:00 with representatives of several bands. A second press conference will be held at 5:00 pm with the Minister of Urban Development and Tourism Sarawak, YB Datuk Michael Manyin anak Jawong. Mr. Manyin anak Jawong will provide an overview of the results of this year's festival.
The 2009 edition of the Rainforest World Music Festival takes place July 10-12 at in Sarawak Cultural Village (Sarawak, Malaysia). The Rainforest World Music Festival brings together on the same stage renowned world musicians from all continents and indigenous musicians from the interiors of the mythical island of Borneo. The festival includes informative workshops, ethno-musical lectures, jamming sessions and mini concerts, followed by evening performances on the main stage.
Author:
World Music Central News Department
World music news from the editors at World Music Central