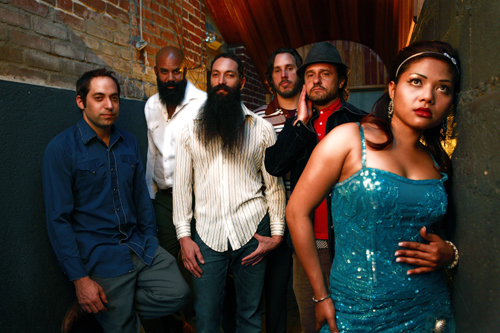 Los Angeles-based Cambodian-American rock band Dengue Fever have announced their first European tour dates of 2009, in support of their new documentary Sleepwalking Through the Mekong on DVD & CD soundtrack, to be released on 15 June. The tour kicks off at London's Scala on June 18.
Sleepwalking Through The Mekong follows Dengue Fever – Chhom Nimol (vocals), Ethan Holtzman (keyboards), Zac Holtzman (guitar), David Ralicke (horns), Senon Williams (bass) and Paul Smith (drums) – on their recent journey to Cambodia to perform 60s and 70s Cambodian rock in the country where it was created and very nearly destroyed.
This beautifully presented double disc digipak edition includes the full-length documentary film and CD soundtrack with previously unreleased live performance tracks by Dengue Fever, new tracks, collaborations with Cambodian master musicians Kong Nai & Tep Mary and rare Cambodian tracks from the golden era of 70s pop.
The odyssey is a homecoming for singer Chhom Nimol (who sang regularly for the King and Queen of Cambodia) and a transformation for the rest of the band. More than a rockumentary, the film serves up a portrait of modern Cambodia as the band tours through Phnom Penh and beyond, crossing a great cultural chasm with the same spirit of Cambodia's original rock pioneers.
Cambodia is often synonymous with the brutal Khmer Rouge regime that left millions dead and scattered refugees around the globe. This tragedy overshadows the story of Cambodia's music scene in the 60s and 70s. Cambodian musicians reinvented Western rock with a distinctly Khmer flavor to create a sound (often referred to as Khmer rock) that is at once familiar and completely original. Sleepwalking Through The Mekong celebrates this vibrant but long-overlooked music and reveals the power of music to weave a common thread between extremely different cultures.
Buy the DVD and CDs, or downloads:
Dengue Fever – with DJ support by Don Letts
Thursday, 18 June 2009, 7.30pm
Scala, 275 Pentonville Road, London N1 9NL http://www.scala-london.co.uk/scala
Admission: £13.50 in advance from Ticketweb (08700 600 100/ http://www.ticketweb.co.uk), Ticketmaster (0870 534 4444), See Tickets (08712 200 260)
Author:
World Music Central News Department
World music news from the editors at World Music Central