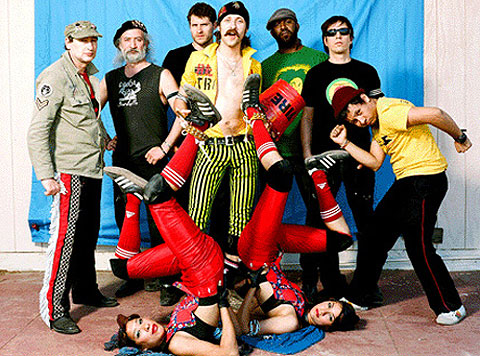 The largest music and art festival in the Baltic States 'Be2gether' which takes place in Norviliskes (Lithuania), 50 metres to Belarusian border, is going to be arranged on the 12th-14th of June, 2009. This year festival's motto is 'Music opens borders.'
Until recently, the organizers of 'Be2gether' could only dream about an opportunity to arrange the festival in both sides of Lithuanian – Belarusian border, so that the inhabitants of Lithuania and Belarus could be together without confinement, despite the differences of political systems in both countries. Today there is a real possibility that in the festival Lithuania – Belarus border will be opened and people from Belarus will come to the festival.
Be2gether has already received a positive public and Belarusian government recognition and the idea of having a common festival is supported by many people in both sides of the border. By the lead of the festival organizers Lithuanian government authorities seek to embody the main idea of "Be2gether". "Of course, such political movements can not be materialized overnight but it is obvious that every year the relationships between Lithuania and Belarus become warmer and we expect that this year people from Belarus will be able to attend the festival straight from the opened physical border,"says Lithuanian ambassador in Belarus Edminas Bagdonas.
One of the first festival performers who would come to Norviliskes passing by the opened border is Lyapis Trubetskoy – a Belarusian band which performed in the first Be2gether.
"It is third year when our festival talks about borders between people. Finally, there is real possibility to reach our goal with music and art help. The festival is becoming one of the most important cultural and social events in East Europe," says 'Be2gether' organizer Giedrius Klimkevicius.
This year festival 'Be2gether' is one of the most important events of Vilnius – The European capital of culture program. The festival will peature more then 50 bands from all over the world.
This year Be2gether will be rocked by crazy gipsy punk rock rhythm of Gogol Bordello, synth pop band 'Polarkreis 18', famous Scandinavian rockers Clawfinger, Touch and go, Roni Size, 'Dilated Peoples'.
The first real open air festival in Lithuania after two years was praised for its musical program quality and warm, friendly atmosphere. In the past years in this festival performed such bands as Groove Armada, Morcheeba, Bloodhound Gang, Tricky, Fools Garden, Datarock, LT DJ Bukem and a lot of others.
More information at: www.b2g.lt/2009/lt
Author:
World Music Central News Department
World music news from the editors at World Music Central