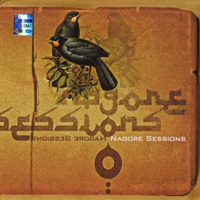 Various Artists
Nagore Sessions (Earth Sync, 2009)
Richly worked productions and deliciously exotic compositions are the hallmarks of recordings by arranger and producer Patrick Sebag and the Earth Sync label, so it should come as no surprise that their offering of the Nagore Sessions delivers a dazzling blend of Middle Eastern percussion and a combination of Indian and Western instrumentation all wrapped around the sharply striking vocals of the Sufi singers from the shrine in Tamil Nadu, India.
The listener can't help but to dive deep into these sumptuous Sufi chants, eddied by the rippling waves of frame drum and tabla and buoyed up by the elegance of violin, flute, sitar and ektara. Interpreting a collection of traditional Indian compositions, Nagore Sessions rides a wave of the vibrantly colored Sufi soul.
Opening with a chunky beat of frame drum and hand claps, "Bagdad Guru" entrances listeners with flashes of keyboard, electronic programming, tabla, mohrsung [other times spelled morsing], flute and violin, but it is the vocals of M. Abdul Gani, M. Haja Maideen and S. Sabur Maideen that blindside the listener with an intense earthiness.
Equally lavish, "The Saint" offers up a whirlwind of sound provided B. V. Ragavendra Rao on violin, Zohar Fresco on frame drum, G. Parthasarathy on mohrsung, Mr. Sebag on bass, keyboards and programming and strings by The Young TLV Orchestra (led by Arnon Friedman) against the vocals of Mr. Gani and both Mr. Maideens.
Fans of Earth Sync's Laya Project will recognize the track "Ya Allah," if for nothing else but its heady, potent vocals against a striking backdrop of strings, keyboards and bells. The effect is still powerfully hypnotic.
The faded in rolling rhythm as if appearing out of the mists of "Allahu Allah" is truly entrancing. Adding sitar, bells, hand claps and horn and this track is transformed into the magical, forcing shivers up the spine.
Threading Paul Jacob on ektara and Palakkad Screeram on harmonium against keyboards, violin, strings, frame drum, bass on the track "Ya Haja" creates a tapestry of sound that is quickens the blood.
"Into Your Eyes" with Navin Iyer on flute, Palakkad Sreeram on harmonium and Murad Ali Khan on sarangi against tabla, mohrsung, frame drum, hand claps by Dipanshu Mitra and Mr. Sebag, who also appears on keyboard, Rhodes and programming is a powerful lure with the same rich vocals.
Mr. Anuradha Vishwanathan joins Mr. Gani and both Mr. Maideens on final track "Mahane Mohabhat." With violin, frame drum, sitar, harmonium, bass and keyboards, this track is a veritable whirling dervish of colors of east and west.
Dipping into some unearthly well crafted out of Indian magic and Sufi mysticism, the Nagore Sessions entices with the utterly hypnotic vocals of M. Abdul Gani, M. Haja Maideen, S. Sabur Maideen and Anuradha Vishwanathan, a roster of expertly skilled musicians and a rich production. It is a luminous delight.
Buy the CD:
Author:
TJ Nelson
TJ Nelson is a regular CD reviewer and editor at World Music Central. She is also a fiction writer. Check out her latest book, Chasing Athena's Shadow.
Set in Pineboro, North Carolina, Chasing Athena's Shadow follows the adventures of Grace, an adult literacy teacher, as she seeks to solve a long forgotten family mystery. Her charmingly dysfunctional family is of little help in her quest. Along with her best friends, an attractive Mexican teacher and an amiable gay chef, Grace must find the one fading memory that holds the key to why Grace's great-grandmother, Athena, shot her husband on the courthouse steps in 1931.
Traversing the line between the Old South and New South, Grace will have to dig into the past to uncover Athena's true crime.