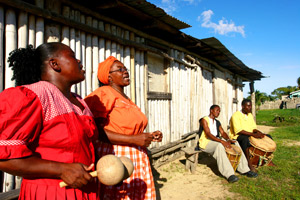 The Pacific Jazz Institute at Dimitriou's Jazz Alley presents September 3, 2008 for one night only, Umalali: The Garifuna Women's Project. Band members are Chichiman (vocals, sax, maracas), Sofia Blanco (vocals), Silvia Blanco (vocals), Sam Harris (lead guitar), Wilton James (bass guitar), Joshua Arana (Garifuna drum: primero), Carlos Perrote (drums, Congas and Garifuna drum: Segundo) and Al Ovando (rhythm guitar). Set time is 7:30pm. Doors at 6:00pm.
Umalali: The Garifuna Women's Project is an album overflowing with stories. There is the story of how it was made: a ten-year labor of love that started with five years of collecting songs and discovering striking female voices, followed by recording sessions in a seaside hut, and ending with exquisitely detailed and subtle production wizardry. There are the stories told in the songs: of hurricanes that swept away homes and livelihoods, a son murdered in a far-off village, the pain of childbirth and other struggles and triumphs of daily life, including the recent loss of Garifuna super-star Andy Palacio. There are the personal stories of the women who participated in this magical recording project: mothers and daughters who, while working tirelessly to support their families, sing songs and pass on the traditions of their people to future generations.
Umalali is also the story of a young, innovative music producer from Belize whose meticulous and inventive craftsmanship has resulted in what will surely be recognized as one of the most uplifting and moving albums in recent memory. Blending the rich vocal textures of Garifuna women with echoes of rock, blues, funk, African, Latin and Caribbean music, Umalali is an entrancing journey into the heart and soul of women whose strength, hard work and perseverance provide the bedrock of their community.
Descendents of shipwrecked African slaves who intermarried with the Carib and Arawak Indians of the Caribbean, the Garifuna people live primarily in small towns and villages on the Caribbean coasts of Belize, Guatemala, Honduras and Nicaragua. Umalali: The Garifuna Women's Project expands on the story of this community, which is struggling to retain its unique language, music and traditions in the face of globalization. Umalali (which means "voice" in the Garifuna language) began in 1997, when a young Belizean musician and producer named Ivan Duran began traveling to Garifuna villages in search of exceptional female voices. The founder of the Belize-based label Stonetree Records, Duran had noticed that while men were usually in the spotlight, it was the women that were the true caretakers of Garifuna songs.
Dimitriou's Jazz Alley
2033 6th Avenue, Suite 255
Seattle, WA 98121
COST: $22.50
Buy the CD:
Reservations can be made at www.jazzalley.com by phoning Jazz Alley at 206.441.9729 or through TicketMaster at www.ticketmaster.com. Children under the age of 12 are admitted free. Making reservations is advised. All shows are all ages. The Pacific Jazz Institute does not discriminate on the basis of race, color, national or ethnic origin.
Author:
World Music Central News Department
World music news from the editors at World Music Central