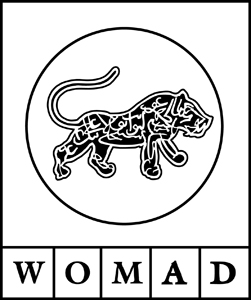 WOMAD 2008, which will be held 25 – 27 July, is a festival that attracts a wide-ranging audience, from world music fans to people who just want to broaden their horizons and discover and experience new music and cultures. In its 26-year history WOMAD has also been at the forefront of accommodating families in an environment that is safe and secure, as well as being affordable – two children aged 13 and under can come free with each adult ticket holder. "After 26 years in the UK festival field, a whole generation has grown up embracing WOMAD as 'normal' and a cool festival experience," says Chris Smith, WOMAD Festival organizer. "More than ten thousand children and teenagers come to WOMAD each year, and this audience will embrace having drum 'n' bass next to 'strange stuff' from countries most of us would struggle to locate on the map! WOMAD has always been about diversity, discovery and surprises and this year we predict all three!"
There are plenty of children's workshops, family workshops, and schools projects. Music making, face painting and cookery sessions. An irrepressibly gorgeous Children's Procession. A vintage steam fairground that is more like a film set than a travelling fair. A dedicated children's area complete with sandpit, reading library and Found Children tent, located close by the dedicated Family Camping site (which has a respectful, early(ish)-to-bed philosophy!). Plus, there is the magnificent Charlton Park itself: a rural idyll complete with arboretum, open lawns and rolling fields – the perfect place for enjoying and exploring especially at the height of British summertime.
Peter Gabriel re-affirms WOMAD's desire to encourage families to come to the festival: "From the outset when we started in 1980 we really wanted to include kids, so part of the aim for WOMAD was to introduce a lot of music. If we can teach them about some of the joys of the world then it's a wonderful thing. It's like with food, if you don't let them eat different things, they won't like things that are strange and foreign!"
PRICES:
Weekend Ticket: £125
Concession Ticket: £100 (ES40 claimants, students, over 60s & 14-17 year olds)
Disabled '2 for 1' Ticket: £100
Sunday Day Ticket: £50
Thursday Camping: £10 (Allows access from 8am on 24 July with Weekend Ticket)
Kids Tickets: Two children aged 13 and under can come FREE with each adult ticket holder
BOOKING DETAILS:
Online: www.WOMADshop.com & www.WOMAD.org/charltonpark
Phone: 0845 146 1735 (lines open Mon-Fri from 10am-3pm for credit/debit card bookings)
LINE-UP DETAILS
Abass Dudu (Ghana) – Adrian Sherwood (UK) – AltaiKAI (Altai Republic) – Andrew Cronshaw And… (UK/Armenia/Serbia) – Asif Ali Khan (Pakistan) – Atongo Zimba (Ghana) – Babylon Circus (France) – Bassekou Kouyate & Ngoni Ba (Mali) – Bedouin Jerry Can Band (Egypt) – Bella Hardy (UK) – Billy Cobham & Asere (USA/Cuba) – Cara Dillon (Ireland) – Charlie Gillett (UK) – Chic (USA) – Children Of The Khmer, Cambodian Dance (Cambodia) – David D'Or (Israel) – Dengue Fever (USA/Cambodia) – Devon Sproule (USA) – Dhoad Gypsies of Rajasthan (India) – Dixey Ruscelli (Spain) – DJ Dubious (UK) – DJ Marky & Stamina MC (Brazil/UK) – Eddy Grant & The Frontline Orchestra (Guyana/South Africa) – Ernest Ranglin (Jamaica) – Finley Quaye (UK) – Fribo (Norway/UK) – GOCOO + GoRo (Japan) – Greg Sheehan (Australia) – Guy Watson (UK) – Hamid Baroudi (Algeria) – Hossam Ramzy & His Egyptian Orchestra (Egypt) – Hotel Palindrome (Austria) – Iya Sako & Nansady Keita (Guinea) – Jah Wobble, Chinese Dub (UK/China) – Joe Taylor (UK) – Johnny Kalsi (India/UK) – Jose Ferrera (Cuba) – Justin Adams & Juldeh Camara (UK/Gambia) – Kenge Kenge Orutu Systems (Kenya) – Kora (New Zealand) – Landing Mané (Senegal) – Lee 'Scratch' Perry (Jamaica) – Lisa Kenny (UK) – Little Axe (USA) – Little Feat (USA) – Lo Còr De La Plana (France) – Madosini (South Africa) – Malam Mamane Barka (Niger) – Mamani Keita & Nicolas Repac (Mali/France) – Marino Pool (Dominican Republic) – Mark Al*censormode* (Japan) – Martha Wainwright (Canada) – Mavis Staples (USA) – Mbira Queens feat. Zuzana Novak (UK/Czech Republic) – Mista Savona (Australia/Jamaica) – Modou Diouf (Senegal) – Mog (Ireland) – Monajat Yulchieva (Uzbekistan) – Mônica Vasconcelos & Hih (Brazil/UK) – Monobloco (Brazil) – Mor Karbasi (Israel) – Nathan 'Flutebox' Lee (UK/India) – Orchestra Baobab (Senegal) – Paprika Balkanicus (Romania/Serbia/Slovenia) – Rachid Taha (Algeria) – Roni Size Reprazent (UK) – Rumberos De Cuba (Cuba) – Sa Dingding (China) – Sarah Savoy & The Francadians (USA/France) – Sarmistha Guha (India) – Seun Kuti & Egypt 80 (Nigera) – Shantel & Bucovina Club Orkestar (Germany) – Sharon Shannon Big Band feat Shane MacGowan, Damien Dempsey and Mundy (Ireland) – Sheikh Taha (Egypt) – Show Of Hands with Miranda Sykes (UK) – Simone White (USA) – Siyaya (Zimbabwe) – Son De La Frontera (Spain) – Speed Caravan (Algeria/France) – Squeeze (UK) – Sudd MM (Sicily) – Svetlana Spaji? with Andrew Cronshaw (Serbia/UK) – Tashi Lhunpo Monks (Tibet/India) – TC (UK) – Terakaft (Mali) – Toumani Diabaté (Mali) – Transglobal Underground (UK) – Venuri Perera (Sri Lanka) – Yescica Livesey (Cuba)
Sadly, Kasai Allstars will no longer be performing at the festival as they have been unable to obtain the visas they need, resulting in the cancellation of their whole tour.
WOMAD Charlton Park 2008
Malmesbury, Wiltshire, SN16 9DG
Author:
World Music Central News Department
World music news from the editors at World Music Central