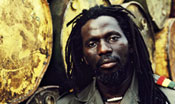 Oslo, Norway – The first Freemuse Award will be given to Tiken Jah Fakoly from Ivory coast. This is announced at the Nobel Peace Centre in Oslo today
Tiken Jah Fakoly is an outspoken Ivorian reggae singer who has tirelessly denounced political corruption. He is an idol for millions of Africans who feel disenfranchised and repressed. He has been threatened, banned and exiled from his home country, but has never compromised. In December 2007, he was declared 'persona non grata' in Senegal after criticizing Senegal's president and calling for democracy.
Tiken Jah Fakoly has been living in exile in Mali for the last five years. He was granted political asylum there in 2003 following a political crisis in Ivory Coast where a number of people close to him were brutally killed.'Quitte le Pouvoir' (Leave the Power) – co-recorded with his close friend, the Senegalese rapper Didier Awadi – is one of Tiken Jah Fakoly's most known songs. It has almost become the African Anthem against political corruption. In his latest release, 'The African', Tiken Jah also tackles pan-African taboo subjects such as female genital mutilation and corrupt marabouts.
The Freemuse Award is announced today – Music Freedom Day – at Oslo's Nobel Peace Centre. Tiken Jah Fakoly will receive the award later this year in connection with one of his concerts in Europe.
Touring in Africa at the moment, Tiken Jah Fakoly declared: "This award touches me a lot since it's like an international acknowledgement. It is acts such as this that encourage me and provide credibility and strength to my fight for peace, justice and equality."
The Freemuse Award is sponsored by the Björn Afzelius International Culture Foundation, which was initiated in memory of Swedish rock singer Björn Afzelius who died 1999. Afzelius was a strong spokesman for suppressed people and said in 1989:
"Rock'n roll is not a question of life and death – it is much more important than that!",
"Tiken Jah Fakoly represents all those ideals that Afzelius believed in", says Marie Korpe, Freemuse's executive director. "We believe that he is also a brilliant representative for the fight for freedom of expression that Freemuse stands for. The popularity of his music and lyrics shows how important music is as a 'people's media' in Africa and how musicians can play a transnational role as 'truth sayer' as well as a 'media of conscience'."
Author:
World Music Central News Department
World music news from the editors at World Music Central