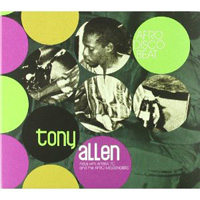 Tony Allen – Afro Disco Beat (Vampisoul VAMPI 090 CD, 2007)
Orlando Julius – Super Afro Soul (Vampisoul VAMPI 091 CD, 2007)
My love for African music began when my ears were opened to the sounds of Nigeria. Re-releases of African classics are cropping up everywhere, and these two jam-packed collections from the Vampisoul label spark memories of some true glory days in Nigerian music.
The late Fela Kuti is widely credited with inventing the Afrobeat style by taking the rhythms of his native Nigeria and blending in the jazz, soul and funk textures he absorbed during an extended stay in Los Angeles in the late '60s. He didn't go it alone, though. Tony Allen, drummer in Fela's Afrika 70 band and possibly Africa's best drum set player ever, has become widely recognized as the co-creator of Afrobeat. Allen's remarkably ambidextrous drumming was the glue that held together the music's heavily percussive underpinning, and his composing, arranging and bandleading skills prompted the often-dictatorial Fela to allow Allen considerable creative input.
The tracks on Vampisoul's double disc set Afro Disco Beat originally comprised four albums (Jealousy, Progress, No Accommodation for Lagos and No Discrimination) that Allen released under his own name in the '70s. Afrika 70 is the backing band on most of the material, with Fela handing his drummer the reins while contributing his own freewheeling keyboard and sax work. Allen's drumming is as steadily dazzling as ever on these vocal and instrumental tracks, at times giving even more prominence to the rhythm section than in most Afrobeat.
The Afrika 70 pieces are not quite as drawn out as Fela's signature tunes, but there are characteristic touches like Pidgin English vocals, gloriously funky horns blazing across tartly tight percussion, bass and guitar and a sardonic sense of subversiveness to make Fela fans feel right at home.
After Allen's falling out with and subsequent departure from Fela in 1978, he formed the Afro Messengers (the name a nod to another great band led by a drummer, Art Blakey's Jazz Messengers). Sporting a noticeably heavier dose of Western-style soul, the Afro Messengers songs nonetheless stay true to a rumbling Afrobeat foundation. Allen's four amazing limbs lead the charge and new directions like the use of synthesizers and the vocal versatility of singer/co-lyricist Candido Obajami smooth out the roughness just a bit. The availability of this music has been spotty in recent years, so take advantage of the renewed opportunity to obtain these recordings.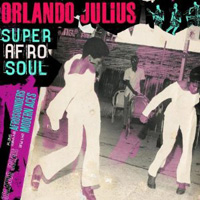 Another Nigerian who created some very musically sophisticated and dance-inducing hybrids was alto saxophonist and band leader Orlando Julius Ekemode. He started out playing the popular West African highlife style but by the time he'd formed his own band the Modern Aces in 1964, he was incorporating jazz and traditional kakoma rhythms into his sound. Over the next few years, as an explosion of American soul music began to flood Africa, O.J. quickly went about making that an integral part of his work as well.
His 1966 album Super Afro Soul was a landmark that lived up to its name and then some, a masterpiece of swinging rhythms, blazing horns and impassioned singing wrapped around an unmistakably African core. The disc's soul connections were as apparent in a cover of "My Girl" that handily split the difference between Africa and America as they were in the twists, turns and breaks that wouldn't feel out of place on a Stax or Motown release.
Vampisoul's Super Afro Soul contains that namesake album in its entirety plus Orlando's Afro Ideas 1969-72, which O.J. recorded with his later band the Afro Sounders. The latter disc's songs are longer, less pop-oriented and closer to the extended grooves of Afrobeat or the more socially conscious side of soul, which is not to say they're somehow inferior to their Super Afro Soul predecessors. It's on these edgier jams that the nuances of Ekemode's sound fully emerge, the interplay between instruments gets more breathing room and songs with titles like "Psychedelic Afro Shop" and "James Brown Ride On" prove to be far more than just tongue-in-cheek.
After living and making music in the U.S. for much of the '70s, '80s and '90s, Orlando Julius returned to Lagos in 1999 to build and oversee new recording facilities. Let's hope more of his works reach these shores. In the meantime, these two CDs represent the cream of his early music and are absolutely essential listening.
Buy the CDs:
Author:
Tom Orr
Tom Orr is a California-based writer whose talent and mental stability are of an equally questionable nature. His hobbies include ignoring trends, striking dramatic poses in front of his ever-tolerant wife and watching helplessly as his kids surpass him in all desirable traits.