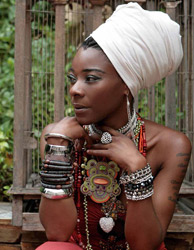 One of the leading figures in Madrid's thriving mestizo music scene will be touring the United States in October. Buika's New York City concert at Brooklyn Academy of Music is the launch of the "New Voices" series. The Spanish Afro-Flamenco singer will also debut in Miami and Washington, DC.
On "Jodida pero Contenta," ("Screwed but Happy"), the Afro-Spanish singer turns a painful post-mortem of love gone wrong into a euphoric declaration of independence. Propelled by an elated mix of flamenco, jazz, and Cuban soul, Buika's throaty vocals cut deep then reach higher, testifying to her unbound approach to her music and her life.
"I can't live in anyone's shadow," says Buika. "My breath is my breath, my heartbeat is my heartbeat."That free spirit moves throughout Mi Niña Lola (Casa Limón/Warner Music Latina), which the Spanish newspaper El Pais deemed "a revolution." Another album highlight, "A Mi Manera," ("My Way,") is not the Sinatra classic but Buika's personal anthem, set to the rhythms of flamenco cajón, hand clapping (palmas) and a piano descarga: "I believe in myself and my way of saying what I think," she sings, her words at once a challenge and an invitation.
Buika's second solo release in Spain, Mi Niña Lola was produced by Javier Limón, a musical stylist known for the sophisticated flamenco fusion that he previously brought to acclaimed albums by Bebo Valdés and Diego "El Cigala" (Lagrimas Negras) and Paco de Lucía (Cositas Buenas). The CD features an all-star lineup including flamenco guitarist Niño Josele; Latin jazz trumpeter Jerry Gonzalez, the innovative Cuban drummer Horacio "El Negro" Hernández, Uruguayan jazz pianist José Reinoso and renowned young Cuban bassist Alain Pérez. A companion DVD features Buika and the group performing at Madrid's storied flamenco club El Candela. An underground meeting point for impromptu late-night musical encounters, it makes an appropriately magical setting for Buika's intimate and emotional performance style.
In addition to Buika's original songs, the album includes several classics of the copla, the traditional Spanish torch song style that puts poetic verses to Andalusian rhythms. These include the opening track and title song "Mi Niña Lola" (My Little Girl Lola) and "Ojos Verdes" (Green Eyes), a popular love song written by Spain's "maestro of the copla" Manuel Quiroga and his collaborators Salvador Valverde and Rafael de León, considered the most important composing trio of 20th Century Spanish song.
Acclaim for Mi Niña Lola has included the award for Best Produced Album at this year's Premios de la Musica, Spain's answer to the Grammys. This fall, Buika, who at age thirty-five is a consecrated critical and popular sensation in Spain, will embark on her first U.S. tour.
Buy Buika's recordings:
Wed October 24th Miami, FL Manuel Artime Theatre
Fri October 26th New York, NY Brooklyn Academy of Music (BAM)
[Debut of "New Voices" series]
Sat October 27th Washington, DC Lisner Auditorium
Buika: voice — Ivan González: piano — Dani de Morón: flamenco guitar Yadam González: bass
Kiki Ferrer: drums — Ramón Porrina: flamenco percussion
See video to "Mi Niña Lola" :
Author:
World Music Central News Department
World music news from the editors at World Music Central