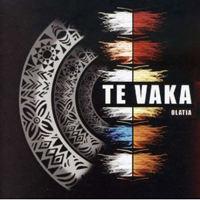 Te Vaka
Olatia (Warm Earth Record, 2007)
Crafting a culturally conscious music rooted in the soul of the Polynesian sound is what Te Vaka 's latest CD Olatia is all about. The group's leader, singer and lyricist Opetaia Foa'i, committed to the social, political and economic causes of the peoples of the South Seas, forfeits neither message or quality on Olatia, making it a triumph of Polynesian/Maori sound.
On a first listen it's no wonder Te Vaka has captured the ear of listeners with their four previous albums, world tours and their Best Pacific Music album award, and it comes as no surprise that Olatia is endowed with a richly magical blend of traditional and contemporary.
Meshing traditional Polynesian log drumming with a socially conscious messages sung in Tokelau, Tuvaluan and Samoan, Olatia's heart belongs to the people it tries to inspire and the environment it is intends to see saved from ill use and neglect. Intricate drumming and haka vocals listed in the liner notes might give some the impression that Olatia is all about tradition, but its incorporating influences of guitars, bass guitars and electric instruments make the CD fresh and modern, urging the blend of sounds to completely entice the listener.
Opening track "Vakaaitu" is stunning with dreamy evocative vocals, roots-heavy chant and some powerful drumming. The rich composition hooks the listener in a cavernous depth of log drum rhythms against dreamy overlayed vocals.
Olatia moves into the deceptive sweetness of "Lelei Ilo Tenei" with its breezy South Seas sound, with lyrics that speak of the " Badman dumbing you down, Pulling you down, Killing you slowly, Killing your soul."
The upbeat "Nonu Paoa" follows, fueled by sheer force of exuberant joyful vocals and chunky chant as backup. "Lua Afe" is one of those tracks that's bound to attract a good deal of attention at it is the song used to champion the All Blacks and Manu Samoa rugby teams. If there ever was a song meant to inspire an intimidating force this is it with throaty chant and potent drumming.
"Ki Te Fakaolatia" is another of those sweet South Seas sounding songs, but its call to environmental responsibility doesn't miss translation with a spoken English section. The instrumental tracks "Mata O Tane" and "Lima Tane" are the exotic gems of Olatia, professing the richness of the Polynesian sound with their intricate, lacy webs of superb drumming.
Olatia, dedicated to environmental and social issues, focuses its elemental song power of not only on the message but the quality of sound and evocative composition.
Buy Olatia
Author:
TJ Nelson
TJ Nelson is a regular CD reviewer and editor at World Music Central. She is also a fiction writer. Check out her latest book, Chasing Athena's Shadow.
Set in Pineboro, North Carolina, Chasing Athena's Shadow follows the adventures of Grace, an adult literacy teacher, as she seeks to solve a long forgotten family mystery. Her charmingly dysfunctional family is of little help in her quest. Along with her best friends, an attractive Mexican teacher and an amiable gay chef, Grace must find the one fading memory that holds the key to why Grace's great-grandmother, Athena, shot her husband on the courthouse steps in 1931.
Traversing the line between the Old South and New South, Grace will have to dig into the past to uncover Athena's true crime.