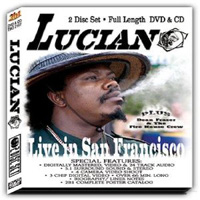 Luciano – Live in San Francisco (2b1 Multimedia TBO 2067, 2006)
Morgan Heritage – Live in San Francisco (2b1 Multimedia TBO 2089, 2006)
San Francisco's Maritime Hall has presented a heap of live reggae music, and many of those shows have been captured on disc by the San Francisco Bay Area-based 2b1 label. Lately 2b1's been making a good thing even better by releasing dual CD/DVD packages of memorable performances, giving those who love a good reggae concert treats for the ears and eyes. These two proved welcome additions to my reggae collection on both levels.
Luciano, an upholder of conscious reggae who always puts on an engaging show, is a natural for this series. Backed by the Firehouse Crew under the direction of saxophonist Dean Fraser, Luciano digs into some of his strongest material, including such life, love and faith-affirming faves as "Sweep Over My Soul," "It's Me Again" and epic finale "Where There is Life," also mixing business with pleasure on a lyrically reworked cover of Peter Tosh's "Legalize It."Occasional technical imperfections are evident but the performance is far more about coming straight from the heart than post-production masking. An unpretentious, uplifting showing from a great who lives up to his nickname of The Messenger.
Reggae family band Morgan Heritage likewise have a dependably great rapport with the crowd, giving added muscle to their finely honed roots music. The performance on their dual disc pack dates from the time of 1999's breakthrough album Don't Haffi Dread, and their youthful energy combine with blossoming lyrical and musical sophistication for a rousingly good show. Again, sound and visuals are not the absolute best, and again it's of no consequence.
Tightly coiled selections like "Protect Us Jah" and the title anthem from Don't Haffi Dread are delivered with proper burning intensity. The Morgan clan have gotten even better since, but this piece of their recent past is a potent reminder of the commitment that got them where they are.
Buy Luciano's Live in San Francisco and Morgan Heritage's Live in San Francisco.
Author:
Tom Orr
Tom Orr is a California-based writer whose talent and mental stability are of an equally questionable nature. His hobbies include ignoring trends, striking dramatic poses in front of his ever-tolerant wife and watching helplessly as his kids surpass him in all desirable traits.