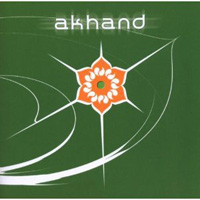 Various Artists
Akhand (Kosmic Music, 2007)
Feeling a little stressed? Maybe you need a little Vedic chant in your life. Kosmic Music's release Akhand, recorded at Kosmic Studios in Golden City, India, will get you on the road to wellness with Krishnaraj ji's hypnotic chant set to the soothing Southern Indian melodies scored by Sathyaprasad G. While Akhand might not perfect your downward facing dog, it will elevate the spirit.
Grounded in the Vedic tradition, known as one of the oldest vocal practices, Akhand opens with the haunting chant "Ano Bhadrah" before blending into the familiar artful vocals of "Namasthe." "Sri Mahaganesha Pancharathnam" and the hard-driving "Rudra" enliven the musical landscape, but it is P. Unnikrishnan's vocals floating above the composition like wisps of spicy incense on "Kanakadhara Stotram" that make the CD. Tracks flow seamlessly into one another, transitioning from the playful to the prayful, like the exotic scenes from a train window.
While the CD's cover is a bit bland, it is the liner notes that are truly a disgrace. There are some excellent musicians on this CD, like violinists Embar Kannan and T. Balaji or Lokesh on santoor and harp and Sudarsan on sitar, but the CD's liner notes make it difficult to decipher who is playing on what track. The press release from Kosmic Music wasn't any help either, focusing on the label and the label's owner instead of the fine musicians and singers appearing on its CDs. Kosmic is a new label, so let's hope they will get it together for their next releases.
Buy Akhand.
Author:
TJ Nelson
TJ Nelson is a regular CD reviewer and editor at World Music Central. She is also a fiction writer. Check out her latest book, Chasing Athena's Shadow.
Set in Pineboro, North Carolina, Chasing Athena's Shadow follows the adventures of Grace, an adult literacy teacher, as she seeks to solve a long forgotten family mystery. Her charmingly dysfunctional family is of little help in her quest. Along with her best friends, an attractive Mexican teacher and an amiable gay chef, Grace must find the one fading memory that holds the key to why Grace's great-grandmother, Athena, shot her husband on the courthouse steps in 1931.
Traversing the line between the Old South and New South, Grace will have to dig into the past to uncover Athena's true crime.