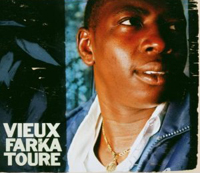 Vieux Farka Toure
Vieux Farka Toure (World Village 468065, 2007)
Following in the footsteps of a parent who's nothing short of legendary in the music world can be a dicey move. It's even more so when that parent is not only recently deceased but ended his career with what may have been his finest album ever. In the instance of Vieux Farka Touré, son of the late great Ali Farka Touré, it could be argued that he has a lot working for or against him.
Considering the family name that the younger Toure must live up to (whether he's consciously trying to or not), that the elder Toure was initially opposed to his son playing music and that cynics might view the timing of this album as too calculated, the musical bloodline that the younger Toure has in his favor hardly seems enough to guarantee success.
One listen, though, and those preconceived notions pretty much fall away. This self-titled debut is a strong, assured and very good one. It benefits from the presence of kora master Toumani Diabaté on a couple of cuts and Ali Farka Touré himself on a couple more, but Vieux is clearly at the helm on lead and rhythm guitars, percussion, some but not all lead vocals and the majority of the composing.
Tart acoustic and electric textures are employed and a fairly smooth sound akin to such Ali Farka Touré works as The Source and Talking Timbuktu (as opposed to rougher albums like his marvelous finale Savane) is achieved.
A wide range of songs flows forth, from stompers like "Courage" and the opening "Sangare" to the reggae chop of "Ana" and the guitar/kora duet with Diabate that winds things up. If full-on comparisons are indeed necessary, it should be pointed out that only in the vocal department are the heights of the elder Toure not reached.
The lead singing shared among Vieux, Seckou Toure and Issa Sory Bamba is in the laid back blues style that Ali Farka Touré employed some of the time, not the keening Islamic-inflected wail he was also capable of. (If you're after that kind of sound-alike, check the fine solo work of former Ali Farka Touré sideman Afel Bocoum.) Even so, this disc (due for release on February 13th) succeeds smartly as both the continuing of a musical legacy and a young artist showing his initial chops. Be sure to pick it up.
Buy Vieux Farka Toure.
Author:
Tom Orr
Tom Orr is a California-based writer whose talent and mental stability are of an equally questionable nature. His hobbies include ignoring trends, striking dramatic poses in front of his ever-tolerant wife and watching helplessly as his kids surpass him in all desirable traits.