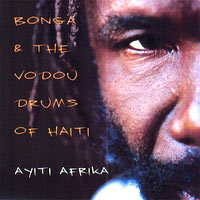 Bonga and the Voudou Drums of Haiti
Ayiti Afrika (Bongamusic, 2006)
Not to be confused with the legendary Angolan singer named Bonga, Gaston "Bonga" Jean-Baptiste is a Haitian master drummer, singer, composer and educator.
As the title suggests, Bonga's Ayiti Afrika is an album rooted in African rhythm, specifically the ancestral rhythms that imbedded themselves in traditional Haitian music. While the African foundation of such Haitian artists as Boukman Eksperyans, Tabou Combo and Emeline Michel is keenly felt in their music, Bonga takes it deeper than deep. Percussion and chants are the backbone here, with some remarkably tasty flute, saxophone, kalimba, mbira and balafon adding melodic strength.
One odd but marvelous component is the use of a 5-string cello which not only sounds like what you'd expect a cello to sound like, but also provides what you'd swear are bass lines and guitar riffs.
From start to finish the disc bursts with joyous grooves and spirited voices. Shining moments include the flute-kissed funk of "Liberty," the dazzling "Peace," on which a smoking didgeridoo winds its way with surprising perfection through blistering drums, cello and sax, and the Zimbabwe-meets-Haiti glow of the concluding "Joy."
And if those song titles (some of the others are "Free Yourself," "We Are Blessed" and "Respect") give the impression that this is an uplifting, heartfelt work of the highest order, well, that would be correct.
Ayiti Afrika brims with excellence throughout. Fans of Haitian music, African music, great drumming and great fusion, prepare to be spellbound.
The CD is available from www.bongamusic.com.
Author:
Tom Orr
Tom Orr is a California-based writer whose talent and mental stability are of an equally questionable nature. His hobbies include ignoring trends, striking dramatic poses in front of his ever-tolerant wife and watching helplessly as his kids surpass him in all desirable traits.