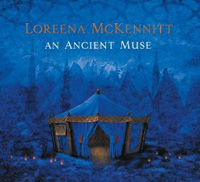 Celtic composer and instrumentalist Loreena McKennitt has a new recording out. Her seventh full-length studio album, An Ancient Muse, will be released on Quinlan Road in November 2006 via the Verve Music Group in the United States; Universal Music Canada in Canada; Keltia Musique in France; SPV in Germany, Austria and Switzerland; Balet Plak in Turkey; Music Plant in Japan and the Universal Music Group in the rest of the world.
An Ancient Muse was produced by Loreena McKennitt and co-produced by Brian Hughes, and was recorded at Real World Studios in England. Its nine tracks continue her exploration of Celtic themes on a journey that sweeps across time and musical genres, from the British Isles to ancient Greece and Byzantine- and Ottoman-era Turkey.
Musical collaborators include Brian Hughes, Donald Quan, Hugh Marsh, Caroline Lavelle, Steáfán Hannigan, Rick Lazar, Hossam Ramzy, Annbjørg Lien, Nigel Eaton, Manu Katché, Charlie Jones, Ben Grossman, Jason Hann, Tal Bergman, Tim Landers, Clive Deamer, Ed Henley,Haig Yazdjian, Panos Dimitrakopoulos, Sokratis Sinopoulos and Georgios Kontogiannis and percussion ensemble Krotala.
Canadian singer/composer Loreena McKennitt is self-managed, self-produced, and the head of her own internationally successful record label, Quinlan Road. In a recording career spanning two decades, McKennitt's "eclectic Celtic" music has won critical acclaim worldwide and gold, platinum and multi-platinum sales awards in fifteen countries across four continents.
Buy the CD:
Author:
World Music Central News Department
World music news from the editors at World Music Central