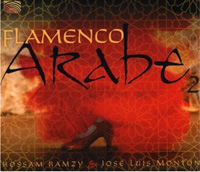 Hossam Ramzy and Jose Luis Monton
Flamenco Arabe 2 (ARC Music EUCD 2000, 2006)
Perhaps later I'll be concerned that I haven't heard the first Flamenco Arabe CD. Right now I'm busy basking in this second volume, a deeply satisfying Middle Eastern/North African/Iberian blend.
Hossam Ramzy is an Egyptian master percussionist who's played with a vast number of pop and global artists. He's also the producer and co-arranger/composer of this album, which puts renowned Spanish guitarist Jose Luis Monton in the spotlight much of the time but also fires up the Arabic connections with a full-on musical mosaic that includes violin, accordion, oud, nay and qanun.
Ramzy's deft percussion is wide-ranging, propelling tracks where the dual traditions of the title meet and spin off each other with grace and ease.
Some of it sounds smooth and romanticized, though the musical interplay is never lacking in power or passion. The disc is almost entirely instrumental, such that by the time "Pensando en Ti (Thinking of You)" rolls around, the breathy vocals of young but accomplished singer Maria Toledo are a mildly jarring but pleasant surprise.
Centuries of Spanish/Moorish musical symbiosis can be heard on this very fine piece of work, particularly evident in the way Monton's guitar both matches and contrasts with the tart sounds of the Arabic instruments.
Buy Flamenco Arabe 2 and prepare for some basking of your own.
[Buy Flamenco Arabe
and Flamenco Arabe 2
Author:
Tom Orr
Tom Orr is a California-based writer whose talent and mental stability are of an equally questionable nature. His hobbies include ignoring trends, striking dramatic poses in front of his ever-tolerant wife and watching helplessly as his kids surpass him in all desirable traits.