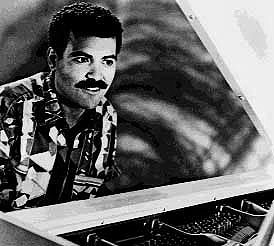 New York (NY), USA – Famed Puerto Rican/New York composer, pianist and Jazz musician Hilton Ruiz passed away this morning at 3:51 a.m. at the East Jefferson General Hospital, in New Orleans, Louisiana. He was still on life support when he peacefully expired. His daughter and wife, both named Aida, were by his side.
Hilton Ruiz had been in a coma at the New Orleans hospital Intensive Care Unit
with severe trauma to the face and a fractured skull. The circumstances surrounding this tragic incident are under investigation by the New Orleans Police Department.
In the meanwhile, Ruiz's family and friends will celebrate his life and music today in a special, after-work benefit jam session will be held in Hilton Ruiz's honor to assist the family with the medical and now funeral expenses. Confirmed guest performers include Zon del Barrio (7 pm) joined by saxophonist Ivan Renta & vocalist Frankie Vasquez; Chembo Corniel and Chaworo (9 pm); Willie Martinez & "La Familia Sextet" (10 pm) and New Swing Sextet. Hilton Ruiz' music and videos will be playing.
Tuesday June 6, 2006 @ 6 p.m. – 12 midnight Doors Open @ 5 p.m.
LQ's, 511 Lexington Avenue (between 48th & 49th Streets)- NYC.
Suggested donation: $20
Other confirmed guest artists include the following:
Luisito Quintero * Andrea Brachfeld * Robert Glasper,* Annette Aguilar * Andy Gonzalez * Grady Tate * Papo Vasquez * Craig Harris * Grady Tate * Pete Nader * Sweet Sue Terry * Mark Whitfield * Avery Sharpe * Terry Burrus * Ben Lapidus * Bobby Sanabria * Dario Boente * Bill Sims, Jr. * Ray Mantilla * Chaney Sims * Norman Hedman * Gary Bartz * Poet Papoleto
This event will help pay for the medical expenses as well as funeral and burial costs involved with transporting Hilton to New York.
Hilton Ruiz will be viewed on Monday, June 13, 2006 at the Barrett Funeral Home located at 424 West 51st Street & Ninth Avenue. 212.265.0335
This event is sponsored by LQ's and Latin Works Music. All donations are to be made payable to Aida Ruiz (check preferred). For further information call: Latin Works Music 917-678-6695.
Author:
World Music Central News Department
World music news from the editors at World Music Central