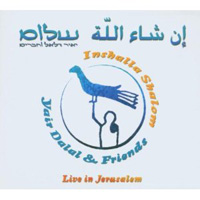 Yair Dalal & Friends
Inshalla Shalom (Najema Music/Magda MGD050, 2005)
Israeli composer, violinist and ud player Yair Dalal has gathered a few friends for this two-CD set entitled Inshalla Shalom for a meeting of musical minds to celebrate the long tradition of folk songs from the Middle East.
Recorded live in Jerusalem, Dalal, known as a prolific composer and work with his Alol Ensemble, has assembled such as talents as Sameer Makhoul, David Menahem, Issa Awwad, Liora Itzhak, Haim Ankri, Erez Mounk and Hertzel Sagi for a musical collaboration of the folk treasures encompassing the entwined cultures of the Middle East.
Tracks such as "Ya Ribon Alam", "Ya Weil Hali" and "Stabukum Lele" on CD 1 span the range from lively to the poignant. On CD 2, "Talaa Min Beit Abuha Ma Navu Ali" is a stand-out piece of percussion, vocals and violin. The combination of ud, violin, ney, vocals, qanun and percussion is at once joyful and rousing and plaintively reflective, blending the voices and music of this intricate web of culture and religion.
Unfortunately the liner notes were thin and the photos scant, so I didn't get a real sense of the live performance and how the collaboration came about. Because Yair Dalal is known for being a peace activist and devoted to cross cultural enthusiasts when it comes to collaboration and creating new Middle Eastern music, I was a little disappointed to find so little information about how the musicians and their experience with this concert. Putting that aside, Inshalla Shalom is worth every note musically and goodwill meant to bring Jewish and Arab musicians together in a common cause for sheer joyfulness.
Buy Inshalla Shalom and Dalal's previous CDs: Perfume Road, Silan, One, Yair Dalal, Samar, Israel, Azazme, Al Ol, and Shacharut
Author:
TJ Nelson
TJ Nelson is a regular CD reviewer and editor at World Music Central. She is also a fiction writer. Check out her latest book, Chasing Athena's Shadow.
Set in Pineboro, North Carolina, Chasing Athena's Shadow follows the adventures of Grace, an adult literacy teacher, as she seeks to solve a long forgotten family mystery. Her charmingly dysfunctional family is of little help in her quest. Along with her best friends, an attractive Mexican teacher and an amiable gay chef, Grace must find the one fading memory that holds the key to why Grace's great-grandmother, Athena, shot her husband on the courthouse steps in 1931.
Traversing the line between the Old South and New South, Grace will have to dig into the past to uncover Athena's true crime.