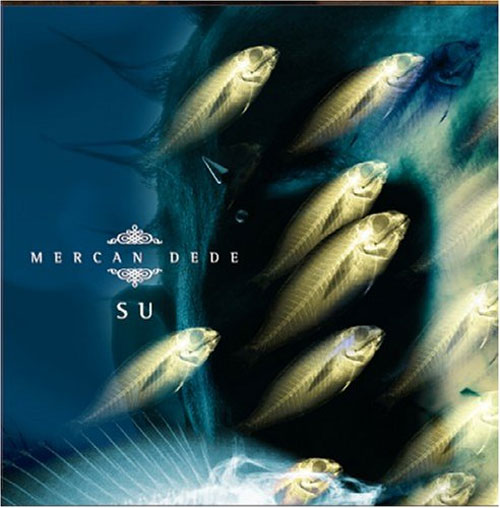 Mercan Dede – Su (RH Pozitif Müzik, 2004/Escondida Music, 2005)
Mercan Dede's Su is a collection of densely layered compositions in a hypnotically ritualistic alchemy of the East and West, Sufi spiritualism and electronic audio landscapes. Turkish born and now Canadian based, Dede, in addition to creating the electronic music for the CD, composes and arranges all the song partnering on a couple of pieces with Sheema Mukherjee (TransGlobal Underground), Susheela Raman and Hugh Marsh, except for one piece from the Kerkük Region. On Su Dede fuses voice, traditional Sufi instruments, electronic sounds and electric violin into shape shifting compositions that evoke both past and present, taking the listener to an otherworldly plane.
Su, meaning water, with its fish photography artwork is wave upon wave of dreamy Middle Eastern influences, mystical sound effects and sampled vocals. Ab-I Rû unfolds with Dede's industrial electronica and flows into mythical journey riding high on Hugh Marsh's electronic violin and Göksel Baktagir on quanum. Sitarist Sheema Mukherjee joins Dede on the track entitled Ab-I Lâ'l along with Hugh Marsh on electric violin, Serhan Yasdiman on acoustic guitar, Aykut Sütoglu on clarinet and Hüseyin Celan and Ismail Darci on percussion alternates between the beckoning call of the sitar and driving rhythm. The interplay between elements on Ab-I Tarab make it one of my favorites with its mesmerizing call of the clarinet over the top of intricate rhythms of drum and electronic sounds. The smoky vocals on Ab-I Beka from Susheela Raman are enticing against Eyyup Hamis on the reed flute. Dede opens with some spectacular electronic vocals on Ab-I Beste then combines them vocals from Özcan Deniz using a Southeastern Turkish poem by Obki Of Urfa. Dede even treats the listener to a laid back piece that turns sharp with glass crashing samples then evolves into a funky rap track with vocals and lyrics by Ceza on Ab-I Nâfi.
Mercan Dede has created an otherworldly feel with Su, steeping it in the rich traditions of his Turkish roots and making it modern with clever, sometimes playful, use of electronic sounds and vocal sampling. Hardly meditative, Mercan Dede's Su is lively and full of twists and turns. The only disappointment was the liner notes, or rather the skimpy version of them.
Buy Su
Author:
TJ Nelson
TJ Nelson is a regular CD reviewer and editor at World Music Central. She is also a fiction writer. Check out her latest book, Chasing Athena's Shadow.
Set in Pineboro, North Carolina, Chasing Athena's Shadow follows the adventures of Grace, an adult literacy teacher, as she seeks to solve a long forgotten family mystery. Her charmingly dysfunctional family is of little help in her quest. Along with her best friends, an attractive Mexican teacher and an amiable gay chef, Grace must find the one fading memory that holds the key to why Grace's great-grandmother, Athena, shot her husband on the courthouse steps in 1931.
Traversing the line between the Old South and New South, Grace will have to dig into the past to uncover Athena's true crime.