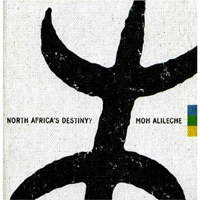 Moh Alileche – North Africa's Destiny? (Flag of Freedom Productions/City Hall Records FFP 004, 2004)
Various Artists – Ancient Civilizations of Southern Africa (ARC Music EUCD 1917, 2005)
Much of the depth of Africa's music stems from the enduring spirit of tribal peoples who have inhabited the continent for thousands of years. These two discs, rich with traditional sounds, illustrate just how well such music from both ends of Africa holds up in this modern age.
The Imazighen (or Berbers, to use the less-preferred plural term) have resided in Africa's Saharan regions since 8,000 BC or so. Moh Alileche is an Amazigh (singular term) born in Algeria and now residing in California. Fittingly, he traveled back to his homeland to record North Africa's Destiny?, a disc that's both beautiful and stirring in its celebration of Imazighen culture.
Lamenting the often tragic marginalization of his people in Algeria and beyond, Alileche's songs are nonetheless both celebratory and cautionary, infused with a stinging mixture of strings, reeds and percussion topped by the assured, urgent wail of Alileche's lead vocals. A first-rate album by a gracious and committed artist.
Similarly stunning though wider-ranging is Ancient Civilizations of Southern Africa, a richly packed overview of the music of the Bushman, Tswana, Venda, Xhosa and Zulu cultures.
There are stirring choral pieces here, along with marvelously unadorned songs that praise ordinary and extraordinary people and things, hypnotic drum chants that, interestingly, often resemble Native American pow-wow music, fiery percussion instrumentals, nursery rhymes that would send Mother Goose packing, rite of passage songs and much more.
You've no doubt heard some of this kind of stuff blended in if you're at all familiar with contemporary South African music, but this disc is the straight-from-the-village real deal.
The whole album is a delight from beginning to end, 31 tracks of joy-inducing sounds from a region that's been noted for just such sounds for a very long time. Highly recommended.
Author:
Tom Orr
Tom Orr is a California-based writer whose talent and mental stability are of an equally questionable nature. His hobbies include ignoring trends, striking dramatic poses in front of his ever-tolerant wife and watching helplessly as his kids surpass him in all desirable traits.