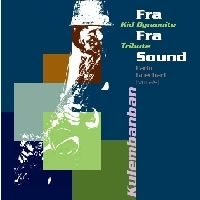 Fra Fra Sound
Kulembanban (Munich Records BV BMCD 443, 2004)
Recording a tribute to a long-deceased man considered the father of Afro-Surinamese music isn't likely to be very high on most band's list of priorities. But it seemed to be in the cards for this particular band, since Fra Fra Sound is based in The Netherlands and that's where Afro-Surinamese music
king Kid Dynamite did his most memorable work, primarily in the 1950s.
Born Lodewijk Rudolf Arthur Parisius in Suriname in 1911, Kid Dynamite was a tenor saxophonist, vocalist and composer who melded jazz with the inherently African Surinamese style called kaseko, creating a ferociously grooving music that got crowds in Amsterdam on their feet every night.
The songs that Fra Fra Sound lovingly cover on Kulemabanban pay tribute to both the beauty and pain of
Surinamese culture, but even if that small South American country is one you've never given a thought to, the music will get you.
Deep drums and percussion, high flying horns and deft guitar, bass and keyboards abound, swinging joyously throughout tuneful arrangements that will appeal to lovers of Latin jazz, calypso, Afrobeat and highlife. The hearty vocals of Carlo Goedhart invite one and all to join the fun, as do the brisk
instrumental passages. And just in case you're in need of a bit of sonic background information, the disc ends with a few vintage recordings of the real Kid Dynamite laying it down.
Rough and scratchy though these tracks are, they provide infectious insight into a man who was certainly a pioneer of what we now call world music. The Kid would no doubt be pleased with Fra Fra Sound's take on his legacy, and thanks to this fine disc, so will you.
Author:
Tom Orr
Tom Orr is a California-based writer whose talent and mental stability are of an equally questionable nature. His hobbies include ignoring trends, striking dramatic poses in front of his ever-tolerant wife and watching helplessly as his kids surpass him in all desirable traits.