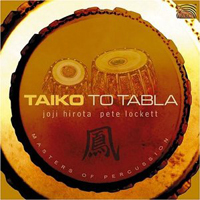 Joji Hirota / Pete Lockett – Taiko to Tabla (ARC Music EUCD 1856, 2004)
Paoli Mejias – Mi Tambor (Paoli Mejias JMCD/2004-1, 2004)
Since percussion is an integral part of so much global music, it's not surprising that many percussionists are releasing albums of their own regardless of how many other names they may have done distinguished work with.
In a genre like Latin Jazz, it's been common for decades to have a percussionist at the helm of a band, while elsewhere percussionists tend to increase their visibility by teaming with like-minded players for projects that celebrate their art. So whether you like percussion as the driving force behind music or pretty much the whole show, the pickings are anything but slim. On Taiko to Tabla, world class players Joji Hirota and Pete Lockett throw down a varied selection of aggressive rhythmic barrages and more melodic trance pieces.
The title suggests leanings toward drumming traditions of two specific nationalities (Japanese and Indian), but those are only the tip of it. These guys bring African, Arabic, Latin and Tibetan percussion into the mix as well, along with Japanese shakuhachi flute, wordless vocals, electronic effects and all manner of overdubbed resonant objects.
Wisely, Hirota and Lockett don't let things meander much. Their tandem playing is strong and mutually edifying, great for joining in or serious listening. Even when an occasional scene-setting quiet moment happens, there's never another expertly played groove far behind. These guys reportedly do live gigs together when their busy schedules allow, and if it's anything like what's heard on this disc, it must be quite a rewarding thing to experience.
The cover of Mi Tambor depicts multiple images of Paoli Mejias handling an array of drums, possibly leading you to believe that this too is an album where global percussion dominates. Nope. This is Latin jazz, and thanks in large part to Mejias' crackling skill on congas, timbales, bongos and drums found in Puerto Rican and Cuban roots sounds, it's marvelous.
Drawing upon a broad range of possibilities, Mejias and his band score again and again. They take on "Oye Como Va," cleverly re-configuring the song as a suite of moods and tempos. A smoking version of Thelonious Monk's "Evidence" also hits hard, along with contrasts like the bongo-and-piano simplicity of "Hello Nany" and "Lo Que"Dice el Tambor," rich with layers of drums and voices in praise of the Yoruba tradition at the heart of Afro-Cuban music.
"What Did You Say" creates a hybrid Latin/Eastern pulse by combining tabla, dumbek and udu drums with the congas, hinting at what Mejias can accomplish should he ever decide to do an album more specifically percussion-oriented. For now, he doesn't need to change a thing. Even if Latin jazz remains his primary bag, he'll no doubt keep doing high quality work.
Buy Taiko to Tabla
Buy Mi Tambor
Author:
Tom Orr
Tom Orr is a California-based writer whose talent and mental stability are of an equally questionable nature. His hobbies include ignoring trends, striking dramatic poses in front of his ever-tolerant wife and watching helplessly as his kids surpass him in all desirable traits.