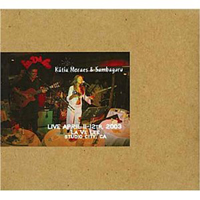 Katia Moraes and Sambaguru – Live at La Ve Lee (Kufala Recordings KUF0030, 2003)
Vinicius Cantuaria –  Live: Skirball Cultural Center (Kufala Recordings KUF0043, 2003)
Brazil's music is as varied as that of any large country, and the land that gave us samba, bossa nova and countless regional styles is the object of many a global listener's fancy. Throughout Brazil the sounds of African and indigenous rhythms are heard, as are melodies that originated with the Portuguese
colonizers who first laid claim to the vast region. Be they superstars or lesser-knowns, one characteristic of the finest Brazilian musicians is an ability to handle the complexities and nuances of the music not only in the studio but on the concert stage. Well, some very special elements are in harmony here, because we're dealing with two double disc live releases by Brazilians who've got the feel righter than right and a label that specializes in recording hot performances and putting them out while they're still fresh in people's minds.
Vinicius Cantuaria is a guitarist and vocalist with a pensive, slightly brooding style that invites favorable comparisons to Baden Powell and Caetano Veloso. He performs some of the latter's compositions on his live set, as well as songs penned by Gilberto Gil and Antonio Carlos Jobim and originals written
in conjunction with the likes of David Byrne and Arto Lindsay. Still, it's not enough to have great songs at your disposal, and it's clear from the excellence of the performance that Cantuaria knows how to make his mark.
His guitar work ranges from graceful to aggressive to evocative, his vocals suit the mood accordingly and he's got a small but amazingly attuned band with him. The supporting players on violin, bass, drumset and percussion give the proceedings a celebratory air that seems delicate at times but often builds into bursts of pure musical poetry.
The music dazzles because of how skilled Cantuaria and co. are in bringing to each song a sense of soulfulness and rhythmic interplay that effortlessly conveys heartfelt joy from performers to audience. It's a dandy mix of classic stylings, jazz and spirited looseness that adds up to one of the very best
releases (Brazilian or otherwise) of 2003. You'd be wise to get your hands on it as soon as possible.
But not so fast, because there's still Katia Moraes and Sambaguru to deal with. Their double live has a few things in common with the Cantuaria album–great sound, tight rhythms,etc.–but it's got more of a flat-out party feel. And that ain't a bad thing, since this band has the chops to lay down sambas, bossa novas, songs flavored with salsa, reggae and funk, forro (a rootsy style from the north of Brazil) and more. They cool down the pace here and there, though for the most part the heat stays on. It's pure bliss from the beginning of disc one to the end of disc two, all brought home with the fiery "Mae Africa" capping things off.
I've listened to both of these repeatedly since they came my way, and their freshness seems boundless. The Kufala label deserves high marks for these "authorized bootlegs," which are not just a good idea in principle but in practice as well.
Author:
Tom Orr
Tom Orr is a California-based writer whose talent and mental stability are of an equally questionable nature. His hobbies include ignoring trends, striking dramatic poses in front of his ever-tolerant wife and watching helplessly as his kids surpass him in all desirable traits.